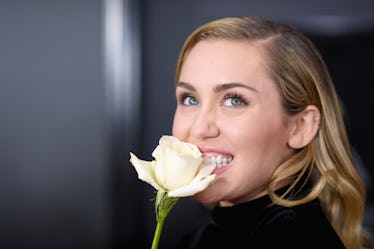 Miley Cyrus' Grammys Look Is So Sophisticated & Twitter Thinks The Old Miley Is Dead
Dimitrios Kambouris/Getty Images Entertainment/Getty Images
Miley Cyrus has gone through so many fashion and beauty transformations I can hardly keep track. Originally the innocent Hannah Montana, Cyrus made a 180 into "Wrecking Ball" territory, and is now in what I think is a happy medium. Miley Cyrus' 2018 Grammys look is in step with her current vibes and TBH, I'm just glad her tongue isn't hanging out.
Cyrus released her latest album Younger Now in the past year but unfortunately didn't get any Grammy nominations for it. I still play "Malibu" on repeat once a week so I was rooting for her, but better luck next year, Miley. Cyrus has for sure come a long way from her days of twerking on stage with Robin Thicke at the 2013 VMAs, but the Grammys tend to be a little more tame. Don't forget, the whole Kanye West Taylor Swift feud began at the VMAs in 2009. Both award shows are entertaining AF to watch from the comfort of your own couch, though, where no one will steal your award.
The fashion at the Grammys is relatively buttoned-up as well (I said relatively), J.Lo's iconic low-cut dress is still on the books as one of the crazier outfits in Grammy history.
Miley Cyrus, however, is never one to not make the musical history books.
2018 Grammys Look
Cyrus wore a black, velour jumpsuit and PVC and crystal heels. Her hair was styled in with a nod to old Hollywood glamour.
The jumpsuit was sleeveless but covered her shoulders with a military-inspired neckline.
2018 Pre-Grammys
Cyrus wore a similarly conservative look to a pre-Grammys event. Her look was a bejeweled jumpsuit that was a very buttoned up look for her, literally and figuratively. Cyrus performed as a tribute to Fleetwood Mac — the band was honored as Person of the Year at the MusiCares pre-Grammy event.
2015 Grammy Awards
Cyrus last attended the Grammys three years ago in 2015. This cut-out, black Alexandre Vauthier gown showed off Cyrus' figure in all the right places. Cyrus wore minimal jewelry and showed off her rockstar, blonde pixie-cut instead.
2011 Grammy Awards
Cyrus was right smack in the middle of her transition from Disney sweetheart to rebellious solo singer at the 2011 Grammys. Her hair and makeup still say angelic child actor, but her zebra-print gown and stacked bangles say rocker-chick in the making.
Her inner naked girl swinging on a wrecking ball is just dying to come out.
Some of Cyrus' craziest looks aren't from the Grammy awards, though.
The singer wore this outfit in December 2015 to a movie premiere. My eyes don't know where to look first: her hair, her dress, those socks?
Cyrus wore what I can only describe as a headband as a shirt to the 2014 Video Music Awards.
Before that, she wore, well, not much to the 2013 European Music Awards.
Cyrus' boots were the most conservative part of her outfit, which is saying something.
Fast forward to back to 2017 and Cyrus is technically more covered up...
Athough I'm not sure how much sheer pants where your red underwear shows through count as covered up. Who's to say, really?
The Younger Now singer has actually gone much more glam as of late. She wore this glitzy strapless gown for an event for The Voice in November 2017 and it's new-age old Hollywood glam FTW.
Miley, is that you? I can't tell because there's hardly any of your skin showing. Cyrus wore the coolest western-isnpired glittery dress I've ever seen. Its mock turtleneck and long sleeves actually leave a lot to the imagination. Add in those over-the-knee boots and Cyrus, you are one classy broad.
Twitter noticed Cyrus' style evolution
I don't think anyone would have called Cyrus "adorable" when she was wearing her barely-there outfits a few years ago.
I guess Cyrus still has her inner bad-girl under that classy jumpsuit.
Cyrus looks fierce no matter how much, or how little, she wears, and you can't deny that she always keeps things interesting.