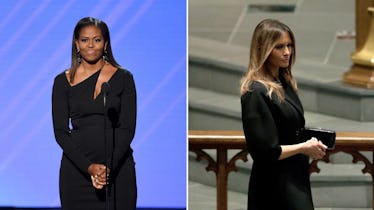 Melania Trump & Michelle Obama Have One Big Thing In Common & It's So Charming
Kevin Winter/Getty Images Entertainment/Getty Images/ Pool/Getty Images News/Getty Images
We already know how President Barack Obama and President Donald Trump stack up against each other when it comes to ruling the country. However, first ladies also play a role in the White House, even if not in an elected position. So, you have to wonder, how do they stack up? Well let me tell you, with all of the political division out there, it's interesting to take a look at photos of Melania Trump and Michelle Obama, and notice that they actually have a big thing in common.
Because they definitely have some things not in common. For one thing, unlike Obama, Trump has had to deal with her relationship constantly being put under a lens, thanks to allegations that President Donald Trump had affairs with various women, including adult film actress Stormy Daniels and former Playboy Playmate Karen McDougal. (President Trump has denied the allegations of both women, denying an affair with Daniels and calling McDougal's claims "fake news.") So it's no surprise that the public has a close eye on every move she makes — the internet goes into a frenzy when the first lady is spotted just smiling. There's also the fact that President Trump has older children outside of his marriage with Trump, who are constantly in the spotlight and very much a part of his presidency. So there are a lot of moving parts that might put more strain on the relationship.
But that's not to say that they're completely dissimilar. In fact, it seems like the two first ladies have one big thing in common — they both love spending time with kids.
One of the big unofficial roles of the first lady is to be the softer side of the presidency, something that often means doing more than a little gladhandling. First ladies take on tasks like visiting hospitals or schools, as well as making appearances at social events like the annual White House Easter Egg Roll or giving out candy on Halloween. It means a lot of interacting with kids, and honestly, in this fraught political climate, it's just really nice to see something positive and sweet out of the White House. Let's take a look.