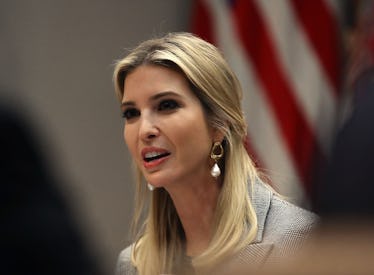 Ivanka Trump's White House Achievements Aren't As Impressive As She Might Like
Mark Wilson/Getty Images News/Getty Images
Ivanka Trump might go down in history as the most involved first daughter in the White House. Throughout her father's entire presidential campaign, Trump not only supported his policies, but also emphasized that she would work to make some changes of her own. So this begs the question, what has Ivanka Trump done in the White House?
The eldest Trump daughter certainly spoke a big game while campaigning for her father. Perhaps her biggest speaking point was geared towards women's rights, where she claimed that her father would actively fight for gender pay equality. There's no doubt that Trump had a huge role in garnering support for Donald Trump, but what exactly has Trump role been since Donald Trump was elected? After securing Donald Trump as president-elect, Trump appeared alongside her family for a 60 Minutes interview on Nov. 13, 2016 and declared that she would stand by her father's side as a "daughter" and support system.
Well, that certainly didn't last long. Soon after Donald Trump entered the White House, Trump, along with her husband Jared Kushner, moved to Washington, D.C., to help advise Donald Trump on some political matters.
Ivanka Trump's name might be as well known as Donald Trump's at this point, but what has Trump accomplished since taking her White House role? It looks like she might be all talk and no action.