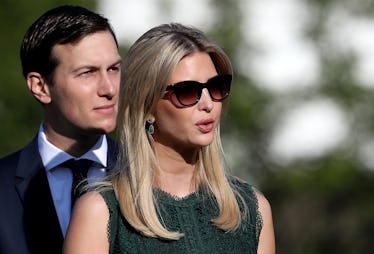 Ivanka Trump Is Going To Peru While The White House Is Melting Down, & This Is Fine
Win McNamee/Getty Images News/Getty Images
What does the Trump family do when everything is exploding? Apparently take a vacation. According to her Twitter, Ivanka Trump is going to Peru just in time to miss all this White House drama. Girl, I kinda don't blame you?
Okay so, maybe it's not really a vacation. On April 11, Ivanka Trump announced via Twitter that she would be attending the Summit of the Americas in Peru alongside her husband Jared Kushner.
She wrote,
Excited to join the US Delegation to @SummitAmericas in Peru, where we will discuss the importance of public-private collaboration to promote investment & sustainable development. I look forward to highlighting our women's economic empowerment efforts in the region. #SummitPeru
Normally this would be fine, but recent developments in the White House prove this to be a pretty inopportune time for the first daughter to jet across the world. What developments are those might you ask? Well on April 9, FBI agents raided the office of Donald Trump's personal lawyer, Michael Cohen, reportedly in search of evidence that Cohen hid details about Donald during the 2016 presidential election. In their search, they also reportedly looked for information pertaining to Donald Trump's infamous Access Hollywood tape, which caught him bragging to Billy Bush about groping and kissing women without their consent. Plus, recent threats involving United States missiles headed to Syria have put nearly everyone on high alert.
If I were Trump, I'd jet off to another country too and let someone else deal with this mess.
Meanwhile in the White House.
Even though Trump may go down as the most involved first daughter in White House history, she knows when to take a much needed vacation to escape the drama. In 2017, while the Republicans attempted (and failed) to repeal the Affordable Care Act, Trump and her family took a trip to Aspen to hit the slopes. Then, in August of 2017 in the aftermath of the Charlottesville protests in which a woman was killed, the Kushner family left Washington, D.C. for some vacation time in Vermont.
Ivanka Trump vacationing amid White House turmoil is the biggest mood.
Even though it looks like Trump's favorite time to family vacation is during trouble in the White House, this trip isn't necessarily all fun and games. During the summit, Trump will reportedly unveil a new program for women's economic empowerment in the region, and will go to the stock exchange in Lima, Peru to meet with female entrepreneurs and corporate leaders, per The New York Times.
A White House official told Politico that Trump will be flying to Peru alongside Jared Kushner, Vice President Mike Pence, Commerce Secretary Wilbur Ross, and United States Trade Representative Robert Lighthizer.
From the sounds of that group, I might prefer to be stressing out in the White House.
According to White House Press Secretary Sarah Huckabee Sanders, President Donald Trump was originally scheduled to attend the summit, but decided to pass the baton and instead stay in Washington, D.C., to oversee recent involvements with Syria, which, let's be real, are getting wild. On April 11, Donald Trump took to Twitter to warn Russian President Vladimir Putin that the United States would strike Syria.
He tweeted,
Russia vows to shoot down any and all missiles fired at Syria. Get ready Russia, because they will be coming, nice and new and "smart!" You shouldn't be partners with a Gas Killing Animal who kills his people and enjoys it!
Then, about an hour later, Donald Trump took to Twitter again to complain about the United States's worsening relationship with Russia.
He tweeted,
Our relationship with Russia is worse now than it has ever been, and that includes the Cold War. There is no reason for this. Russia needs us to help with their economy, something that would be very easy to do, and we need all nations to work together. Stop the arms race?
If this was an action thriller, we would definitely be reaching the climax at this point. Ivanka, I'm with you on this one. It's time to take a trip abroad.
Bon voyage, everybody.