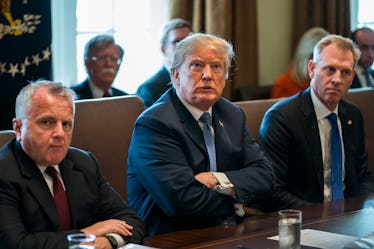 Trump Warns Russia To "Get Ready" For Missiles Heading To Syria
Pool/Getty Images News/Getty Images
President Donald Trump has delivered a direct warning to Russian President Vladimir Putin via Twitter, vowing that the United States will strike in Syria. Trump's tweet about missiles heading to Syria was sent on Wednesday morning, April 11, and served as a response to reports that Russia was prepared to shoot down American missiles in the middle eastern country. Here's what the president had to say:
Russia vows to shoot down any and all missiles fired at Syria. Get ready Russia, because they will be coming, nice and new and "smart!" You shouldn't be partners with a Gas Killing Animal who kills his people and enjoys it!
In a tweet sent 40 minutes after the post in which he warns Russia about missiles, President Trump sent another tweet about the adversary. This time, he lamented a worsening relationship with Russia.
"Our relationship with Russia is worse now than it has ever been, and that includes the Cold War," Trump tweeted on Wednesday morning. "There is no reason for this. Russia needs us to help with their economy, something that would be very easy to do, and we need all nations to work together. Stop the arms race?"
A day before Trump's Wednesday morning tweets, a Russian diplomat warned the United States about taking military action in Syria. "If there is a strike by the Americans, then ... the missiles will be downed and even the sources from which the missiles were fired," Alexander Zasypkin, the Russian ambassador to Lebanon, said in Arabic during a TV interview on Tuesday, according to Reuters.
The United States and Russia play opposite sides in their roles in the Syrian Civil War. Russia backs Syrian President Bashar al-Assad, while the United States opposes his regime. After a suspected chemical attack in Syria on Saturday, April 7, which the United States believes was deployed by Assad, Trump became vocal in signaling an American retaliation.
"Many dead, including women and children, in mindless CHEMICAL attack in Syria," the president tweeted on Sunday, April 8. "Area of atrocity is in lockdown and encircled by Syrian Army, making it completely inaccessible to outside world. President Putin, Russia and Iran are responsible for backing Animal Assad. Big price ... to pay. Open area immediately for medical help and verification. Another humanitarian disaster for no reason whatsoever. SICK!"
Days before the suspected chemical attack, Trump had signaled the opposite, a willingness to withdraw the amount of American troops that the United States already has stationed in Syria.
Trump's consideration of withdrawal from Syria, which was first reported by The New York Times, was criticized by Arizona Senator John McCain as a move that "emboldened" Assad.
The suspected use of chemical weapons by the Syrian government has long been a triggering subject for United States, dating back to President Barack Obama's administration.
In 2012 President Obama drew — a now infamous — "red line," indicating that the use of chemical weapons would trigger a significant military response.
"We have been very clear to the Assad regime, but also to other players on the ground, that a red line for us is we start seeing a whole bunch of chemical weapons moving around or being utilized," Obama said in August 2012. That would change my calculus. That would change my equation."
A year later, however, after an August 2013 chemical attack in Syria, the Obama administration responded without the type of significant military response the "red line" implied.
In April 2017, the Trump administration authorized a military strike against a Syrian air base, in response to another chemical weapons attack that was reportedly deployed by Assad's regime.
Now, a full year later, Trump has signaled that yet another military strike is, with a simple message: "Get ready Russia."