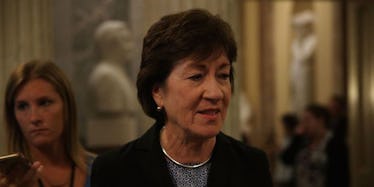 The Latest GOP Effort To Repeal Obamacare Is Failing, And Here's What That Means
Alex Wong / Getty Images
It's a good guess that Senators Bill Cassidy of Louisiana and Lindsey Graham of South Carolina went to bed angry on Monday, Sept. 26, if they got any sleep at all. The duo is pushing for the latest GOP effort to repeal Obamacare, the Graham-Cassidy bill, which suffered a blow on Monday when Senator Susan Collins of Maine announced she'd be voting against it. So what does this mean for the bill, and for the future of the Affordable Care Act (ACA, aka Obamacare)?
Collins said in her announcement on Monday, according to The New York Times,
Health care is a deeply personal, complex issue that affects every single one of us and one-sixth of the American economy. Sweeping reforms to our health care system and to Medicaid can't be done well in a compressed time frame, especially when the actual bill is a moving target. Today, we find out that there is now a fourth version of the Graham-Cassidy proposal, which is as deeply flawed as the previous iterations. The fact that a new version of this bill was released the very week we are supposed to vote compounds the problem.
Collins is the third Republican senator to state that she opposes the bill, joining Senators Rand Paul (R-KY) and John McCain (R-AZ). With only 52 senators in the party, Cassidy and Graham don't have much room for defections by their colleagues. At present, the bill needs 51 votes to pass. Even if Vice President Mike Pence pulls a tiebreaker vote in their favor, with three senators out and assumedly no Democratic senators on board, the chances of the bill's passing appear remote.
Graham-Cassidy is the latest of four attempts this year by Senate Republicans to repeal and replace the ACA, all of which have so far failed.
In the immediate future, it's unclear whether, with an almost-certain failure, the Senate will even put the bill to a vote, which had been slated for this week. The awkward decision is up to Senate Majority Leader Mitch McConnell, who has endured three failures already this year.
On Monday night, Senators Bernie Sanders, Amy Kloubachar, Graham, and Cassidy appeared on CNN to debate the health care issue. Asked about plans for a vote, Graham hinted that he'd want to see it happen, saying,
We are going to press on. It's OK to vote. It's OK to fall short, if you do, for an idea that you believe in.
Further ahead, the picture of Obamacare is even less clear -- but it doesn't look likely that the GOP will be successful in repealing and replacing with the current Senate. After Sept. 30, the voting rules change so that the GOP would need a 60-vote majority to pass anything. Holding only 52 seats, it's unlikely they'd produce a bill that would cause eight of their Democratic colleagues to support it.
On Monday, the Capitol was packed with protestors there to attend the Senate hearing on the bill. Videos of protestors in wheelchairs being dragged out of the hearing went viral.
The GOP senators defecting from the party line vote have various reasons for doing so. Collins cited the opposition of industry leaders, cuts to Medicaid, and the projected impacts on the insured; Paul's decision to oppose the bill was because it wasn't a far enough departure from the ACA, calling it "Obamacare Lite." McCain stressed that a decision affecting a large portion of the economy shouldn't be made in haste.
Jimmy Kimmel, who has become an unexpected figurehead in the health care battle, expressed his reaction to Collins' opposition on social media:
While many are undoubtedly rejoicing at the projected failure of Graham-Cassidy, it's not yet time to assume that Obamacare is safe. Politico reports that the GOP is already looking ahead for their next opportunity to attack the health care bill. And for an issue this divisive and impactful, it's never too early to anticipate the next battle.