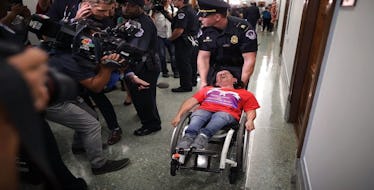 Intense Videos Show Protesters In Wheelchairs Dragged Out Of Health Care Hearing
Chip Somodevilla/Getty Images
Just when you thought this whole health care situation couldn't get any worse – it got worse. On Sept. 25, protestors were forcibly kicked out of a Graham-Cassidy health care hearing. The kicker? Many of them were in wheelchairs. And the videos of Graham-Cassidy protesters in wheelchairs being dragged away by police are horrifying.
The trouble began when hundreds of people gathered to protest the proposed bill, which, according to the Center for Budget and Policy Priorities, would cut Medicaid by $175 billion between 2020 and 2026. The protestors, many of whom had been waiting outside since 5 a.m. that morning, began chanting, "No cuts to Medicaid, save our liberty," just as the meeting began. Finance Committee Chairman Orrin Hatch (R-Utah) promptly called for police to remove the protestors. According to NPR, he said,
If you want a hearing—if you want a hearing, you better shut up, If the hearing is going to devolve into a sideshow or a forum for simply putting partisan points on the board, there's absolutely no reason for us to be here.
Dozens were arrested, many of whom were in wheelchairs. Videos show police officers dragging protesters out of the hearing room while they continue to chant: "Kill the bill, don't kill me."
The footage is pretty horrifying and heartbreaking.
If you are currently sitting at your computer, gaping with horror right now, don't worry, you're not alone. People took to Twitter to express an outpouring of outrage over the footage as well.
The Graham-Cassidy health care bill could slam down hard on people with disabilities, according to Bruce Darling, the organizer of ADAPT, a disability rights organization that organized both the Sept. 25 protest, and several other protests against Medicaid cuts.
He wrote in a statement,
Graham-Cassidy is the worst bill yet that Republicans have come up with to repeal Obamacare. This wasn't what they campaigned on; they didn't campaign to strip away the services that disabled people and seniors rely on to live in the community. They campaigned on fixing Obamacare, and I don't understand why they continue to target our community with cuts that will steal disabled lives instead of actually fixing anything.
Medicad cuts, he added, would effect community-based organizations, forcing people with disabilities to turn to underfunded institutions, which he called "hives of abuse, neglect, and human misery."
Dawn Russell, an ADAPT organizer from Denver, called cuts to Medicaid "cruel and un-American."  She explained,
Forcing disabled people and seniors into institutions just to pay for tax cuts, which is what this bill does, is not equality. It's not liberty. Graham-Cassidy is a policy for a much crueler and meaner country than this one, and the people who support it should be ashamed of themselves.
While Congress's nonpartisan budget analyst, the Congressional Budget Office (CBO) can't release crucial information on how the proposal will affect medical coverage until after the vote, according to Senator Dianne Feinstein (D-CA), the bill would result in up to 32 million Americans losing their health coverage. An initial CBO analysis on the bill, released on Sept. 25, said that the bill will result in "millions losing health insurance and a $133 billion reduction in the deficit by 2026."
Senators have until Sept. 30 to pass the legislation with a simple majority of 51 votes. John McCain (R-AZ) has already said that he cannot "in good conscience" vote yes to the bill. He explained,
I believe we could do better working together, Republicans and Democrats, and have not yet really tried. Nor could I support it without knowing how much it will cost, how it will (affect) insurance premiums, and how many people will be helped or hurt by it. Without a full CBO score, which won't be available by the end of the month, we won't have reliable answers to any of those questions.
Sen. Susan Collins (R-ME) announced on Sept. 25 that she would also be voting against the bill. Per CNN, she explained,
Sweeping reforms to our health care system and to Medicaid can't be done well in a compressed time frame, especially when the actual bill is a moving target. [The bill will] open the door for states to weaken protections for people with pre-existing conditions, such as asthma, cancer, heart disease, arthritis and diabetes.
Rand Paul (R-KY) has also said that he is against the bill, explaining that he feels it is too close to the Affordable Care Act.
Can we just stick a fork in this one and call it a day? Here's hoping.