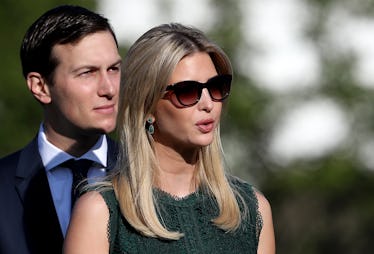 Ivanka Trump & Jared Kushner Tried To Bribe Planned Parenthood To Stop Abortions, Report Says
Win McNamee/Getty Images News/Getty Images
When you think about the Trumps, you probably think about their innate abilities to close deals, but naturally, losses also come with the territory. This latest report surrounding the family, however, is a major L and a very serious matter. It says that Ivanka Trump and Jared Kushner tried to bribe Planned Parenthood to stop performing abortions, and I can't stop shaking my head.
On April 3, Cecile Richards, President of Planned Parenthood, released her new memoir Make Trouble: Standing Up, Speaking Out, and Finding the Courage to Lead, in which she discussed a meeting she had with the couple in January 2017. According to People, Richards originally proposed the meeting with Ivanka Trump alone to discuss the role that Planned Parenthood plays in supplying health care to millions of people in efforts to establish an alliance with someone from the Trump administration, but when they met, Richards found that the two were there to propose a deal: they offered to save funding for the organization, but only if it ceased performing abortions. Kushner, who had joined his wife at the meeting, reportedly told Richards that the organization "had made a big mistake by becoming 'political.'" Richards wrote:
The main issue, [Kushner] explained, was abortion. If Planned Parenthood wanted to keep our federal funding, we would have to stop providing abortions. He described his ideal outcome: a national headline reading 'Planned Parenthood Discontinues Abortion Services.'
Richards added that it seemed like the pair were proposing the deal more to establish their own reputations than for any other reason. She wrote,
Jared and Ivanka were there for one reason: to deliver a political win. In their eyes, if they could stop Planned Parenthood from providing abortions, it would confirm their reputation as savvy dealmakers. It was surreal, essentially being asked to barter away women's rights for more money.
Um, what? If Trump and Kushner were really banking on Richards, who has been president of Planned Parenthood since 2006, nodding happily and agreeing to throw women's health care under the bus for the sake of money, they're even more clueless than I thought. Elite Daily reached out to the White House for comment on the meeting, but did not receive a reply by the time of publication.
Richards, of course, declined the proposal. "Our mission is to care for women who need us, and that means caring for all of their reproductive needs — including safe and legal abortion," she recalled saying.
The offer, which Richards characterized as a bribe, is extra shady because the organization's federal funding is frequently at risk. On January 5, 2017, just days before the election, House Speaker Paul Ryan announced his plans to defund Planned Parenthood in the dismantling of Obamacare, which reportedly influenced Richards to meet with Trump and Kushner. According to a statement from Planned Parenthood that the organization shared with Time, the purpose of the meeting "was to make sure that Ivanka Trump fully understood the important role Planned Parenthood plays in providing health care to millions of people and why it would be a disastrous idea to block people from accessing care at Planned Parenthood."
It's pretty mind-blowing that Trump and Kushner would just waltz into this meeting with any other intentions than the health and welfare of millions of women. Especially because Trump is a self-proclaimed "champion for women" — or at least likes to portray herself as such. She's advocated for equal workplace opportunities for women, LGBTQ rights, and several other issues, but when it comes to reproductive rights such as abortion or other reproduction-related matters, she remains disturbingly clueless.
She's also a part of an administration that has strong pro-life views, which obviously probably doesn't help at all. On January 19, President Donald Trump gave a speech at the annual anti-abortion rally March for Life, in which he talked about his administration's stance on abortion. He said, "Under my administration, we will always defend the very first right in the Declaration of Independence, and that is the right to life." He also added, "You love every child, born and unborn, because you believe that every life is sacred. And we are with you all the way. May God bless you."
The New York Times also reported that in March 2016, the president even suggested that, if abortion was banned, women who got the procedure should be subjected to punishment. Though he later recanted his statement, saying that it was the doctor who performed an abortion who should be punished, his comments were still pretty upsetting.
Whatever happened to the art of minding your own business? That way, cases like this could really be avoided.