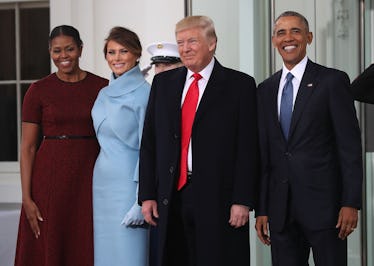 Barack Obama Smiled At Melania Trump At Barbara Bush's Funeral & Twitter Is Lit
Mark Wilson/Getty Images News/Getty Images
In some sad news this week, former President George H.W. Bush said a final goodbye to his wife and former first lady Barbara Bush. Barbara Bush died on Tuesday, April 17, and her funeral was held on Saturday, April 21 in Texas. Plenty of people were on hand to pay their respects to the former first lady, and former President Barack Obama was among the mourners on Saturday. The current Trump administration was represented at the funeral by first lady Melania Trump, and these tweets about Melania Trump smiling at Barack Obama during the funeral have Twitter lighting up.
There were a few former presidents and first ladies in attendance of Bush's funeral mass at St. Martin's Episcopal Church in Houston, Texas, according to People. It just so happened that Melania Trump was seated next to the Obamas (Michelle Obama was also in attendance). President Donald Trump wasn't at the service in order to "avoid disruptions," according to a statement released from the White House. It might seem opposite of what you'd expect of a sitting president, but that is the recognized protocol of a sitting president's actions when a former first lady dies, according to ABC News. It was also noted then-President Obama didn't attend former first lady Nancy Reagan's funeral in 2016, but Michelle did attend.
On Saturday, Melania Trump was seated next former President Obama, and a picture of the two smiling at one another quickly made its way around the internet. A tweet with the ABC News video with footage from inside the service shows the brief moment where Obama talks with Melania, and then they both exchanged smiles with one another.
Of course, no one knows what was said during the short exchange, but people on Twitter couldn't help but notice the momentary joyful disposition of the first lady (especially during quite a somber event).
It took practically no time for all of the memes to surface. While nothing can ever surpass the greatness of the Biden-Obama memes, the jokes that started flying with this picture just might make you LOL.
I don't think we'll ever really know what caused the shared smiles between the two, so you'll have to settle for the memes and internet theories.
As I said before, there were plenty of people in attendance of Bush's funeral service on Saturday, and it led to another picture that setting internet abuzz. Bush's husband former President George H.W. Bush was there as he laid his wife to rest, and, of course, Bush's son, former President George W. Bush, and his wife Laura Bush were there to say their final goodbyes as well. Outside of the Bush family, former President Bill Clinton and Hillary Clinton along with the Obamas were also there to pay their respects.
It appears that all of the former presidents and first ladies in attendance were joined by the current first lady to pose for a photo, and it is definitely a rare photo. The photo of the former presidents and first ladies with Melania Trump was posted on the NBC News Twitter account, and it is shows the powerful families who are so connected to opposing political parties put party lines aside to pay their respects to former first lady Barbara Bush.
President Trump used his Twitter account to share his condolences for the Bush family and pay his respects, as he tweeted that he was "heading to the Southern White House to watch the Funeral Service of Barbara Bush."
Following the funeral mass, the late Barbara Bush was laid to rest at Texas A&M University in College Station, on the grounds of the George H.W. Bush Presidential Library.