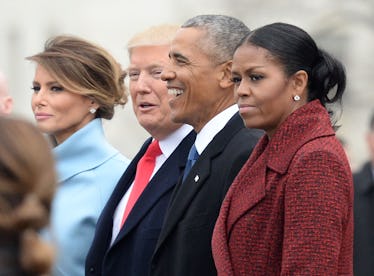 Melania Trump & The Obamas Had A Moment At Barbara Bush's Funeral & It's So Moving
Pool/Getty Images News/Getty Images
On April 21, former first lady Barbara Bush was laid to rest in Texas, with family, friends, and fellow political leaders stepping in to pay their respects. Among the audience was Melania Trump, and Barack and Michelle Obama. But despite being on opposite political sides and all the vitriol between them throughout the years, they were spotted getting along, being respectful, and even sharing a pleasant moment. If you don't believe a word of what you've just read, the video of Melania Trump and the Obamas at Barbara Bush's funeral says it all.
Bush's funeral was held at the St. Martin's Episcopal Church in Houston, Texas and she was later laid to rest on the grounds of the George H.W. Bush Presidential Library at Texas A&M University in College Station, Texas, according to People. Given Bush's legacy, it's no surprise that her funeral was attended by multiple former presidents and first ladies — as well as the current first lady. During the funeral service, Trump sat next to the Obamas, with the Clintons sitting on the opposite side of the Chicago natives. Given the political turmoil, it's a setup that could have been super awkward super fast. But, it wasn't. The video shows Trump sparking up a brief chat with Obama, and after exchanging a few words with her, the two break out into smiles. It even looks like Michelle might've been trying to get in on the conversation, but the video cuts right before we can see what happened next. (Dang it.)
I love seeing this! With Barack's acclaimed comic timing and delightful charm, I bet he said something really refreshing and pleasant to lighten the mood a little at a solemn time. And even though the animosity between the Trumps and the Obamas has yet to wane, it was honestly just really nice to see them both being dignified and respectful, even having a good time. It really says a lot about everyone involved that despite the level of vitriol that tends to swirl around the political world right now, the former president and current first lady could still share a smile and a moment of mutual warmth at an emotional moment.
It might have helped that President Donald Trump decided not to attend the ceremony, though. On Friday, April 20, a spokesperson for the White House said the president made the decision "out of respect for the Bush Family." According to Politico, the spokesperson said,
First Lady Melania Trump will attend the memorial service for Barbara Bush this Saturday on behalf of the First Family. To avoid disruptions due to added security, and out of respect for the Bush Family and friends attending the service, President Trump will not attend.
Though Donald Trump's decision to skip the service might seem a little shady, it's actually normal for him not to be there, as sitting presidents don't usually go to these funerals. ABC notes that in similar fashion, Barack didn't attend Nancy Reagan's funeral in 2016, while Michelle did. The president did, however, extend his "thoughts and prayers" to the Bush family via Twitter and said he planned on watching Bush's funeral from the "Southern White House." He wrote,
Heading to the Southern White House to watch the Funeral Service of Barbara Bush. First Lady Melania has arrived in Houston to pay our respects. Will be a beautiful day!
After the service, Trump also took to her Twitter to share some final words on Bush and her legacy, saying it was an "honor" to attend the service. She wrote,
It was my honor to travel to Houston to give my respects to Barbara Bush and the remarkable life she led as a mother, wife, and fearless First Lady. My sincerest thoughts and prayers continue to be with George H.W., and the entire Bush family.
It may have been an honor, but if that video is anything to go by, it also had its moments of pleasantries. Some Twitter users couldn't help but take advantage of the meme opportunities of the moment.
Why am I reading these in their accents?
Though Donald missed out on the moving reconnection with the Obamas, it wouldn't have been the first time that the president and his wife have been friendly with the couple. Back in January 2017, on Inauguration Day, they gifted Barack and Michelle a "lovely frame" from Tiffany & Co., which, as we all remember, also turned into a meme-able moment. Anytime these people get together, really.
They may never be "friends," but at least all of them know how to be amicable when the time calls for it. To all of our benefit, whether that benefit's about the moment, or the memes.