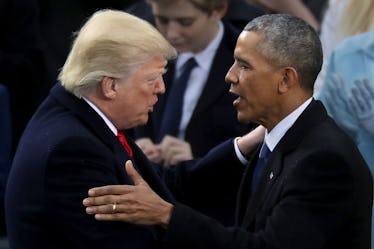 Donald Trump's New Nickname For Barack Obama Is Prettyyyy Ironic
Chip Somodevilla/Getty Images News/Getty Images
There is nothing more intriguing than seeing President Donald Trump's latest nicknames for one of his many, many rivals, and you can't tell me otherwise. From "Crooked Hillary" to "Rocket Man," I can never get enough of seeing just how far he goes in trolling his foes, and on April 3, he definitely took things up a notch — this time targeting Barack Obama. However, Donald Trump's nickname for Barack Obama is pretty ironic in the grand scheme of things.
In the middle of an anti-immigration rant on Twitter on April 3, Trump posted a message that boasted about a poll by Rasmussen, which, according to The Hill, shows that he currently has a 50 percent approval rate — a number that's four points higher than where Obama was at the same time in his presidency. Though Rasmussen has historically been "friendlier" to Trump than to Obama (and aside from the fact that Trump's approval ratings have been a bit of a rollercoaster throughout his presidency), he still decided to capitalize off the moment and taunt Obama with a harsh new nickname. He wrote,
Thank you to Rasmussen for the honest polling. Just hit 50%, which is higher than Cheatin' Obama at the same time in his Administration.
Yeahhhh. "Cheatin'" isn't a word that Trump should be throwing around considering he's embroiled in multiple scandals about alleged affairs in which he cheated on his wife.
Just days ago, on March 25, adult film star Stormy Daniels gave an explosive interview on 60 Minutes that detailed the encounters she allegedly had with Trump back in 2006 while his wife, Melania, was pregnant with their son, Barron. The White House has denied claims of an affair, saying that Daniels' claims are "not accurate," while Trump himself tweeted "fake news" after the interview, seemingly in response to Daniels.
In her 60 Minutes interview, Daniels opened up about how a week before the 2016 presidential election she was paid $130,000 to sign a non-disclosure agreement (NDA) by Trump's lawyer Michael Cohen, who later claimed that the payment had come out of his own pocket and had nothing to do with the Trump presidential campaign. She also claimed that in 2011 she had been threatened by an unknown man who told her to keep quiet about her allegations of an affair. Daniels said:
I was in a parking lot, going to a fitness class with my infant daughter. T— taking, you know, the seats facing backwards in the backseat, diaper bag, you know, gettin' all the stuff out. And a guy walked up on me and said to me, 'Leave Trump alone. Forget the story.' And then he leaned around and looked at my daughter and said, 'That's a beautiful little girl. It'd be a shame if something happened to her mom.' And then he was gone.
Since Daniels went public, many have also questioned if the $130,000 payment violated campaign finance law: If it was given by Cohen in exchange for her silence to benefit the Trump presidential campaign, it would be considered a campaign contribution that would've needed to be disclosed (which they failed to do), not to mention the fact that it greatly exceeds the cap on individual donations to a political campaign. So you would think that, with all this going on, "cheatin'" would be a word Trump would refrain from using at this time.
As if all of that weren't enough, we can't forget about Karen McDougal, an ex-Playboy model, who also claims that she had an affair with Trump for months while he was married to Melania, also in 2006. On March 22, she sat down with Anderson Cooper and alleged that on one occasion, after she and Trump had allegedly been intimate, he'd tried to pay her. She said, "After we had been intimate, he, he tried to pay me — and I actually didn't know how to take that. I looked at him and said, 'That's not me, I'm not that kind of girl.'" Trump has denied that an affair with McDougal ever occurred.
But what he can't deny is facts, and he definitely cheated on his first wife Ivana Trump with Marla Maples, who he later married and had one child, Tiffany Trump, with. And I'll just say it: Trump might be winning as far as his current approval rating, but at least Obama didn't have any scandals like this going on.
I know how shady Trump intended to be with this nickname, but this is just one of those occasions where you should just delete your tweet and act like it never happened. Because, clearly, you can't win 'em all.