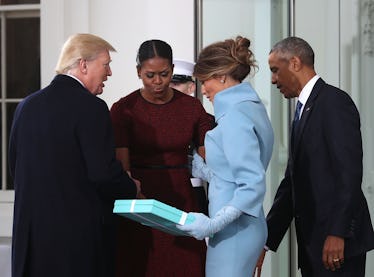 We Finally Know What Melania Trump's Inauguration Gift To Michelle Obama Was
Mark Wilson/Getty Images News/Getty Images
Remember last year's inauguration ceremony when Melania Trump arrived to the White House, dressed in a classic light blue ensemble and wielding a giant ribbon-wrapped Tiffany & Co. box? When she passed the gift to Michelle Obama, the ex-first lady's befuddled expression was priceless, putting everyone in a frenzy trying to figure out what exactly could be in the mysterious box. One year later, on Jan. 31, 2018, Melania Trump's inauguration gift to Michelle Obama has finally been revealed, so we can start to calm down.
While visiting Ellen, Obama's very first televised interview since leaving the White House last January, Obama admitted the gift was a "lovely frame," according to Teen Vogue, which is really sweet and pretty ironic, considering the Obamas bought a new home just months after the inauguration.
But since it's not exactly standard for an incoming president to bring a departure gift for the outgoing commander in chief, it caused a bit of a hitch in the ceremony — which explains all the awkwardness we saw at the time. Describing her reaction to the gift (which turned into a viral meme, by the way), Obama said she was simply caught off guard.
"Well, there's all this protocol. I mean, this is like a state visit, so they tell you that you're going to do this, they're going to stand here," she told Ellen DeGeneres. "Never before do you get this gift, so I'm sort of like, OK."
She continued,
What am I supposed to do with this gift? And everyone cleared out and no one would come and take the box. And I'm thinking, Do we take the picture with it? And then my husband saved the day — see, he grabbed the box and took it back inside. But everybody cleared out. No staff, no one. I was like, What do you do with the box?
On Jan. 20, 2017, the day of President Trump's inauguration, the gift exchange between Trump and Obama was super awkward. It started with Barack greeting Donald Trump, asking, "Mr. President-elect, how are you? Good to see you. Congratulations." From there, things went kind of downhill as Trump handed Obama the gift. Once Obama had accepted the present from Trump, she looked baffled, as if she didn't know what to do or say about the gift. She frantically looked around for help, until her hubby stepped in to help, simply saying, "We will take care of the protocol."
But it was too late. Even though video of the event showed the ex-president saving the day and putting an end to the uncomfortable encounter, social media turned Obama's awkwardness into hilarious memes.
One Twitter user said Trump gifted Obama "her speech back."
If you're not aware, they were referring to the similarities between Trump's Republican National Convention speech to Obama's Democratic National Convention speech eight years prior. Ouch.
Others joked Trump had slipped Obama a rescue note.
"Inside the blue Tiffany's box Melania handed Michelle is just a desperately scrawled note that says 'Take me with you,'" one user wrote.
LOL.
Even before the gift "exchange," the day was already pretty awkward.
As you can see in the above video, after arriving to the White House, Donald Trump stepped out of his vehicle and greeted the Obamas, forcing his wife to walk up the White House's stairs alone. It's like, of course it was only going to get more awkward from there.
Anyways, although Obama's experience was a tad bit uncomfortable to watch, receiving inaugural gifts is a pretty common tradition (just, not like this). George H.W. Bush's presidential inauguration in 1989 sparked the first gift offering, presented by the Joint Congressional Committee on Inaugural Ceremonies. Since then, any time a president gets re-elected they are given a crystal gift. Though the presents aren't exchanged between presidents and first ladies, at least Trump's heart was in the right place.
Though we actually didn't get to see the gift Trump gave Obama, it's nice to know that she got the ex-first lady something that she can forever treasure. Then again, it's only appropriate that Obama use the gift to frame her priceless reaction to Trump's offering. I'm just saying.