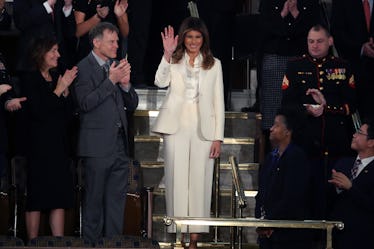 Melania Trump Visited A Children's Hospital & She Looked So Emotional
Mark Wilson/Getty Images News/Getty Images
First ladies are generally thrust into the spotlight once their spouses are elected to office. For our current First Lady Melania Trump, however, she's kind of made staying out of the spotlight her thing. But recently, it looks like she's making strides in this new role she's found herself in and slowly putting more work into the bipartisan issue that she's chosen to take on: children's issues and cyberbullying. And her recent visit to a hospital was proof that she's moving forward with these plans. Melania Trump's recent visit to a children's hospital was super sweet — and luckily for us the first lady decided to share her trip with us via social media.
Trump made a trip to the Cincinnati Children's hospital and shared her experience with the world in an Instagram video on Feb. 5. In the video the FLOTUS is seen hugging the young patients in the hospital and talking with the medical staff. Although the video itself isn't exactly specific as to what Trump did and what she discussed with the doctors in the hospital, the first lady did mention her reasoning for picking Cincinnati Children's as her hospital of choice. The post states,
Thank you @CincyChildrens! Your research on the #OpioidEpidemic and understanding its effect on babies helps us grow in our awareness of the devastating effects it has on children. Also enjoyed spending time with some of your most inspiring young patients!
Trump always seems to be happy when she's around kids, so this post was pretty sweet to see. It's especially refreshing since we so rarely see the first lady showing any spontaneous emotions at all. But when she makes these visits it's the public's chance to see Trump in this vulnerable emotional light. The last time we saw Trump make a trip towards her cause was in October 2017, when she visited a middle school in Michigan as a part of her anti-bullying platform. And the images that surfaced from that trip show that she's pretty clearly happy when she's around children.
This Feb. 5 trip was extra significant for the first lady as well, since this particular hospital has dedicated research to treating opioid-exposed children.
Trump noted that the research Cincinnati Children's does highlights the opioid epidemic that President Donald Trump declared a nationwide state of emergency back in October 2017. The 90-day public health emergency status officially ran its course on Jan. 23 this year, and since then, there seemingly hasn't been much coming out of the White House that's dedicated to battling this cause.
So this trip also could have been the first lady's attempt to show that she (as an integral member of the White House) is doing work to recognize institutions that are putting in hours trying to help combat this opioid epidemic. And the choice to display this video on social media is very fitting, especially since Trump has been criticized for appearing to not do enough work related to the cause she's chosen.
On the campaign trail, Trump first announced that she'd choose cyberbullying, specifically when it comes to young children and teens, as the cause that she'd tackle if she were to become the first lady. Trump said in a campaign speech that she gave in Pennsylvania on Nov. 3, 2016,
We have to find a better way to talk to each other, to disagree with each other, to respect each other. We must find better ways to honor and support the basic goodness of our children, especially in social media. It will be one of the main focuses of my work if I'm privileged enough to become your first lady.
Following the election of her husband and his swearing-in just over a year ago, people were questioning whether Trump was putting any real work into this cause at all. Back in Oct. 2017, in an email to Vogue magazine, Trump's spokesperson Stephanie Grisham stated,
The First Lady looks forward to announcing her formal platform in the coming months. For now it is safe to say that her focus is the overall well-being of children. This can include many things, including drug addiction, poverty, disease, trafficking, hunger, or teaching children the values of empathy and communication, which are at the core of kindness, mindfulness, integrity, and leadership.
So this latest trip is evidence that Trump working toward this broadened cause and focusing on children in this country as a whole — not just when it comes to cyberbullying, but when it comes to any issue that children face. It's very refreshing to see the first lady interacting with the nation at this scale, and I'm hoping that this is the start of many more social media posts to come.