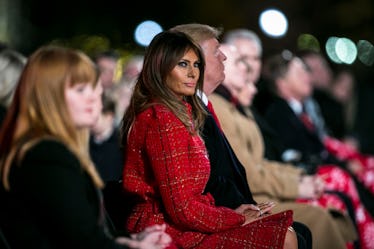 Melania Trump's Outfit At The State Of The Union Was So Surprising & I Can't Handle It
Pool/Getty Images News/Getty Images
All eyes were on President Donald Trump on Jan. 30 when he gave his first State of the Union address before a joint session of Congress. But the president wasn't the only person that viewers were keeping a lookout for. One of those attendees was First Lady Melania Trump. Trump did not have a speaking part in tonight's event, but she was still able to make a bold statement by way of her choice of ensemble. And the first lady definitely did not disappoint. Melania Trump's State of the Union look was every bit of elegance that we've come to expect from the first lady, and it truly was a surprising choice — just not in the way we all expected.
The first lady of the United States is a fixture at any State of the Union address, and sits in her own box above members from the House of Representatives and the Senate. This was Donald Trump's first State of the Union and I'm sure that the first lady was equally as excited as her husband, as this is one of the most important speeches the president delivers while in office. And such a monumental moment in one's career deserves a look that fits the occasion, which is exactly what Trump did with her outfit choice tonight.
However, Melania's ivory and cream pantsuit did not come without controversy. Many speculate that the FLOTUS chose to wear white in opposition of the Democrats' choice to wear black in solidarity with victims of sexual assault. (It's worth pointing out that many Dems sported Time's Up pins as well as Recy pins to the SOTU.)
Trump totally defied expectations in an ivory pantsuit that got a standing ovation as she entered for the State of the Union. (OK, it was probably for Trump herself.)
Her all-white ensemble — the ivory suit over what appeared to be a cream-colored satin blouse — definitely garnered looks amid the more somber outfits throughout the rest of the gallery, and stood in stark contrast the to number of women wearing black. It was something of a contrast to her normal look — while the first lady is always chic, she tends to favor a more classically feminine look, with sculptured dresses and high fashion designers.
Trump looked amazing, of course, there's no point denying that. But her outfit was also interesting because, well, there's another famous political figure who's kind of known for the pantsuit look. Particularly the all white pantsuit.
The all white look is also a bold choice, due to the fact that multiple members of Congress decided to wear all black to the State of the Union speech in solidarity with survivors of sexual assault and harassment. So Trump's look kind of stood out.
Tonight is not the first night that Trump has gotten attention for her choices in clothing.
Most recently, during an 11-day trip to Asia that took place in Nov. 2017, Trump was criticized for both not wearing Asian designers (opting for Gucci instead) and for the high-ticket prices that the totality of her wardrobe rang up. It was reported that her outfits during that trip cost a total of just over $42,000, which is the average price of a year's college education in the United States. Even though these choices have been somewhat controversial, nobody can deny that Trump's looks have been absolutely stunning.
The first lady's fashion taste hasn't been the only thing she's been criticized for. Trump has kept a relatively low profile since her husband took office last year on Jan. 20, 2017. There have even been reports questioning whether she does anything at all. And it's a very valid question to ask, given that her predecessor Michelle Obama was extremely vocal and a trailblazing first lady who has been called an inspiration, and has even been considered as a viable presidential candidate for the upcoming 2020 elections.
Suffice it to say, Trump is her own kind of first lady. But that doesn't mean that she isn't trying to take up noble causes that plague our society in her new role. Trump announced at a campaign speech in Pennsylvania on Nov. 3, 2016, that tackling bullying and cyberbullying (particularly among children and teens) would be one of the key issues that she'll focus on as first lady. In the speech she said,
We have to find a better way to talk to each other, to disagree with each other, to respect each other. We must find better ways to honor and support the basic goodness of our children, especially in social media. It will be one of the main focuses of my work if I'm privileged enough to become your first lady.
Once she took on the mantle of first lady, though, she took her time actually acting on the issue. Which, hey. It could just be that Trump just needs more time adjusting to her role as first lady and is not as good at it as her predecessors, which is honestly a fair and valid reason. But one thing's for sure — Melania Trump can sure dress the part of a first lady, and tonight only solidifies this fact.