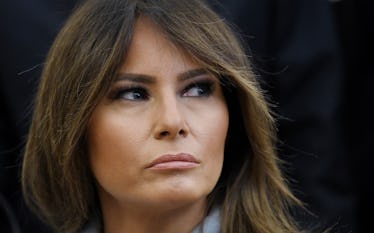 This Is What Melania Trump's Life Was Like Before She Married Donald
Pool/Getty Images News/Getty Images
Who is Melania Trump? The first lady irrefutably has remained private since her husband took the presidential oath of office in 2017. Discounting the prestige and limelight that she now enjoys merely by living in the White House, Melania's life before marrying Donald Trump was mysterious.
"Melanija Knavs in fact never really had a true career, but her story reads as if scripted in a Hollywood success story, a true American fairytale," reads the foreword of an unauthorized biography, Melania Trump: The Inside Story, by Bojan Požar, Slovenia's leading gossip columnist, and Igor Omerza, a former politician and publisher. Požar and Omerza go on to describe a mysterious and withdrawn woman who rarely socialized, was deadset on becoming a famous model, and astonishingly would become first lady. (A spokesperson for Melania told The New Yorker that the book is "untrue and dishonest.")
She was born Melanija Knavs, (later westernized as "Melania Knauss," and ultimately, she took the last name of her husband after they wed in 2005), on April 26, 1970, in Novo Mesto, Slovenia — then part of Communist Yugoslavia. Her father, Viktor Knavs, now 73, was a car dealer, and her mother, Amalija, now 71, was a children's clothing designer, to according Biography.com. She grew up at home with her younger sister, and later learned that her father had a son from a previous relationship — her half-brother.
Here's what else you should know about Melania's mysterious life before she became Trump's third wife and later moved into the White House.