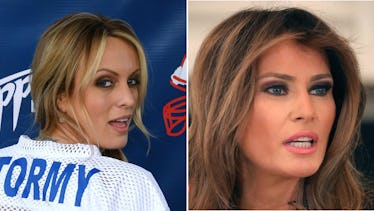 Here's How Melania Trump Responded To Stormy Daniels' New Interview About Donald Trump
Chip Somodevilla/Getty Images News/Getty Images Ethan Miller/Getty Images Entertainment/Getty Images
After a much-awaited 60 Minutes on Sunday, March 25, the country was waiting to hear the first lady's reaction. Melania Trump's response to Stormy Daniels' interview has been largely silence, but her spokeswoman has finally joined the conversation. The interview with the adult film star pertained to an alleged affair she had with President Donald Trump in 2006. Both Trump and White House officials have denied an affair occurred.
"While I know the media is enjoying speculation & salacious gossip," Stephanie Grisham, Melania Trump's spokesperson, tweeted Sunday, "Id like to remind people there's a minor child who's name should be kept out of news stories when at all possible."
Daniels, whose given name is Stephanie Clifford, is one of two women suing to break legal hush agreements they reportedly signed prior to the 2016 presidential election to keep quiet about alleged affairs they had with Donald Trump. Daniels is suing Trump to break her non-disclosure agreement on the grounds that Michael Cohen, Trump's personal attorney, signed the agreement and not Trump himself. Cohen admitted to paying Daniels $130,000 of his own money, and the White House has stood by Trump's denials of these allegations of affairs, and said of the Daniels lawsuit that a case "has already been won in arbitration."
Among the eye-popping revelations Daniels offered up during the interview with Anderson Cooper was the claim that Trump did not use protection during the singular time she alleges they had sex in July 2006, right after meeting at a celebrity golf tournament in Lake Tahoe, which would affect other women with whom Trump was intimate. Coincidentally, this is the same timeframe in which former Playboy model Karen McDougal claimed she had intercourse with Trump. (McDougal brought her lawsuit against American Media, Inc., the parent company of the National Enquirer, to break her agreement last Tuesday. AMI said that McDougal was "free to respond to press inquiries," and any suggestion that the company had tried to silence her was "without merit.") McDougal also claimed her numerous alleged sexual interactions with Trump were unprotected. Elite Daily has reached out to the White House for comment on the allegations of unprotected sex, but did not hear back at time of publication.
Not only did the alleged sexual encounters Trump had with Daniels and McDougal reportedly take place in the same weekend — they would've happened while Trump's wife Melania was still very much in the picture, at least in the traditional sense. In fact, she had given birth to their son Barron, now 12, just a few months earlier. It was only some 18 months prior, in January 2005, that Melania and Donald got married.
When Cooper asked Daniels on 60 Minutes if Trump had mentioned his wife or child, Daniels claimed, "I asked. And [Trump] brushed it aside, said, 'Oh yeah, yeah, you know, don't worry about that. We don't even — we have separate rooms and stuff.'"
But the first lady appears keen on staying quiet as the scandal roils the capital and the country at large. Melania Trump has stayed under the radar since reports of these affairs first became public. Just 10 days after the Stormy Daniels story first broke in January, Melania Trump cancelled her trip to Davos, Switzerland, for the World Economic Forum, instead deciding to jet off to Mar-a-Lago and tour the Holocaust Museum in Washington D.C. And after reports of Trump's alleged affair with McDougal hit headlines, Melania Trump skipped a Marine One ride with the president, opting to go her own way to the Palm Beach resort. She also did not stand during her husband's State of the Union speech during a line about family and values.
The trend continued into this past weekend. Melania failed to return to the White House with her husband on Sunday just ahead of when the 60 Minutes interview was scheduled to air. Instead, she was hanging back in Mar-a-Lago with Barron and was slated to be there another week. "The first lady will be staying in Florida as is their tradition for spring break," Deputy Press Secretary Lindsay Walters told People.
The first lady herself hasn't made a peep publicly about how she feels about the news of the alleged affairs or about either woman's high-profile interviews. That hasn't stopped some Twitter users from having harsh responses of their own to her spokesperson, Grisham, on Sunday night. "Perhaps you should ask your president to keep to his vows and then you won't have to tweet these passive aggressive tweets," replied author Jaime Primak.
"Malia and Sasha Obama were minor children when MELANIA went on TV saying their father was a liar and not born here," tweeted Suzanne Lindbergh in reply. Lindberg is referencing a 2011 appearance Melania Trump made on the Joy Behar Show supporting her husband's "birtherism" theory around then-President Barack Obama.
Other users pointed out that the Daniels' case involves another minor child aside from Barron: Daniels' daughter, who the actress claims was implicated when she was allegedly threatened with physical harm to keep quiet about the affair, as she told 60 Minutes Sunday. (Cohen's lawyer Brent Blakely denied this was connected to Cohen or that it happened at all.)
The first lady herself has not responded to the news of the interview directly as of the publication of this story.