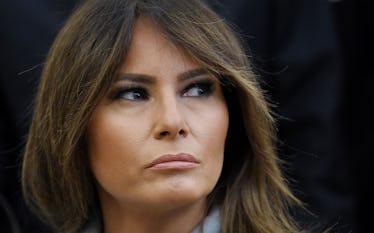 Melania Trump Was In Florida Alone During Stormy Daniels' '60 Minutes' Interview
Pool/Getty Images News/Getty Images
On March 25, the 60 Minutes interview with Stormy Daniels aired to the public, and we've all been waiting to hear her spill the tea. Well, maybe not all of us, because it looks like Melania Trump was in Florida alone during Stormy Daniels' CBS interview. I for one, hope the first lady is sipping a Mai Tai on the beach right now.
Instead of tuning into the juicy segment, first lady Melania Trump is enjoying some time alone while enjoying some sunshine and sandy solitude alongside her son Barron Trump — and not her husband, Donald Trump, who returned to the White House solo on Sunday afternoon. According to Melania Trump's spokesperson Stephanie Grisham, their trip to Florida is a "family tradition" that has "been planned for some time." Family tradition or not, Melania Trump has the right idea getting away from the public spotlight at the moment.
For those unaware of all the drama that's been unfolding the past few weeks, buckle up.
On Jan. 12, reports from The Wall Street Journal surfaced claiming that Donald Trump's lawyer Michael Cohen had arranged a payout to adult film star Stormy Daniels, whose legal name is Stephanie Clifford. The payout was allegedly meant to make sure Daniels wouldn't discuss an alleged sexual encounter with Donald Trump from 2006. Trump has denied having an affair with Daniels.
Despite reports, Cohen has vehemently denied these claims to The Wall Street Journal.
He said,
This is now the second time that you are raising outlandish allegations against my client. You have attempted to perpetuate this false narrative for over a year; a narrative that has been consistently denied by all parties since at least 2011.
Daniels has gone back and forth on whether an affair happened, and at one point called these claims "absolutely false" in a statement obtained by BuzzFeed.
The alleged affair between Donald Trump and Daniels reportedly occurred in 2006, just shortly after Barron Trump, his son with Melania Trump, was born. In fact, during the 60 Minutes interview, Anderson asked Daniels whether Donald Trump mentioned his wife or son during their interaction.
"I asked. And he brushed it aside," Daniels told Cooper. "He said, "Oh yeah, yeah, you know, don't worry about that. We don't even, we have separate rooms and stuff."
Since reports of the alleged affair surfaced, it appears that Melania Trump might be giving President Trump a little bit of the cold shoulder. During President Trump's 2018 State of the Union Address on Jan. 30, a few weeks after the story first broke, the POTUS mentioned "faith and family," and didn't get the warmest reaction from the first lady.
In his State of the Union Address, Trump said, "In America we know that faith and family, not government and bureaucracy are the the center of Democracy." The comment was met with a standing ovation from the audience. That is, except Melania Trump, who remained seated while everyone stood and cheered.
Iconic.
Then, on Feb. 5, right before jetting off from the White House, Donald Trump tried to hold Melania's hand, and it was one of the most awkward moments I've ever witnessed. To make matters worse, this might not be the first time Donald Trump tried to show some affection and got rejected. In May 2017, while on a trip to Tel Aviv, it looked like Melania Trump swatted President Trump's hand away. I understand not liking PDA, but this is a little much.
Even though it's still up in the air what will come from Melania Trump and President Trump's relationship, there are definitely some relationships on the rocks in the rest of the Trump family. On March 15, Page Six reported that Donald Trump Jr. and Vanessa Trump are divorcing, after Vanessa Trump filed for separation.
Even though I may not be the biggest fan of the Trump family, it's never enjoyable to watch families go through hard times.
In the meantime, enjoy the beach, Melania.