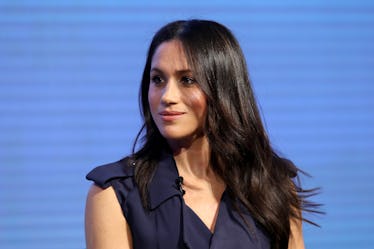 Meghan Markle Just Wore A Half-Dress, Half-Trench Coat & It's Brilliant AF
Chris Jackson/Getty Images Entertainment/Getty Images
There are 79 more days to go before Prince Harry and Meghan Markle's wedding, and I'll be impatiently waiting through them all. The duo are thankfully still keeping up royal appearances, and these photos of Meghan Markle at The Royal Foundation Forum show off one of her most clever fashion looks yet. When you see the sheer genius, you'll become even more thirsty to see her future wedding dress.
Markle sat on stage alongside her fiancé Prince Harry, Prince William, and Kate Middleton at The Royal Foundation Forum to discuss the charity's current and upcoming work. It was the group's first royal speaking appearance together, although they've been pictured together before when Markle spent Christmas with Prince Harry and the family. Princes William and Harry founded The Royal Foundation in 2011; Middleton is now also an official patron of the organization, and Markle will join them after she weds Prince Harry in May.
Official patron or not, Markle is a royal-in-waiting and must always look the part. The former Suits actress is heavily photographed wherever she goes, and has strict royal fashion rules to follow, so I'd imagine her #lewks are planned out by an army of royal stylists with all that in mind. Her most recent getup fit all appropriate guidelines and was just the right amount of #fashun — in other words, it was brilliant AF.
In The Trench Dresses
Markle wore a navy blue sleeveless trench dress and I'm just about ready to cut the sleeves off of all my coats (and dresses). She also wore a few delicate rings (except for her epic engagement ring) and a thin gold bracelet for a little bit of extra sparkle. Markle's hair was styled into sleek, soft waves, just like how she wore her hair in Scotland. Is Markle's messy bun look gone? I hope not, because now whenever I wear my hair in that same "I woke up like this" style I feel like a d*mn princess (except I really do wake up like that and don't have a team of hair stylists to make me look effortlessly casual at the drop of a hat).
Sister, Sister (In-Laws)
Markle and Middleton complemented each other in their 50 shades of blue dresses (OK, only two shades of blue, but just let me have this). Markle's dress is a Jason Wu Crepe Back Satin Belted Wrap Dress ($1,795, Nordstrom) and the fact that it's a two-in-one coat dress is downright fabulous. Members of the royal family are not allowed to take their coats off in public (it's considered improper and unladylike), but with this dress, Markle doesn't have to! I'm also always a fan of wrap dresses or other styles with adjustable waistbands because you can loosen it up after lunch, wink wink.
A Royal Giggle
Markle's bling gives her look some extra shine. She's worn rings by fine jewelry brand Maison Birks in the past, so she's possibly wearing the same jeweler here. Maison Birks also makes wedding bands, so I wonder if Prince Harry's been doing some shopping there?
Middleton also looked gorgeous in her aptly named Seraphine Royal Blue Tailored Maternity Dress ($169; Seraphine). Middleton wore this same dress back in January so naturally it's already sold out, but the brand says it'll be back in stock soon for any mamas-to-be out there.
There He Is!
Markle lovingly touched her fiancé's arm while on stage — the things I would do to be able to touch Prince Harry, but I digress...
Gang's All Here!
At long last, Markle shows off her shoes. She's wearing the Aquazzura Casablanca Pump ($750; aquazzura.com), and defying the age-old fashion rule of wearing navy and black, and I love it!
Since Markle's look is royally-priced, I took the liberty of putting together her entire get-up for much less dough.
With an easy swap for more affordably priced pieces, you can dress just like Markle. Half-dress, half-coat, 100 percent brilliant.