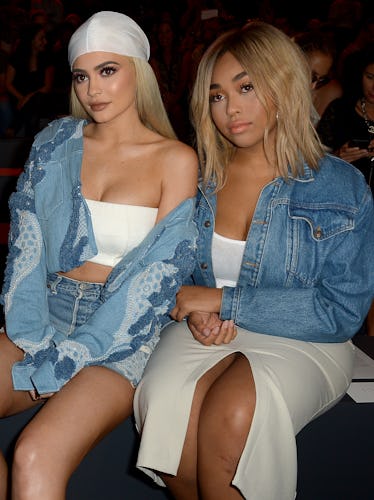 Kylie Jenner's BFF Jordyn Woods Parties It Up In Mexico Days After Stormi's Birth
Gustavo Caballero/Getty Images Entertainment/Getty Images
Kylie Jenner and Jordyn Woods have a friendship that simply does not waver. They are the ultimate BFF's, and it seems that Woods was there for Jenner throughout every step of her pregnancy. So, now that Kylie Jenner has finally given birth to her daughter, I think that Jordyn Woods deserves a little bit of a break to take some time off for herself. And guess what? She's doing exactly that, because these photos of Jordyn Woods in Mexico prove that she is taking some time for a little rest, relaxation, and, of course, ridiculously awesome selfies.
Woods took to Instagram to let the world know that Auntie Jordyn was heading to Mexico to go bask in the sun for a few days, probably because holding in a huge secret like Kylie's pregnancy has taken a toll on her, so a vacay is the best way to decompress. According to her Insta, she's only visiting for a few days, so she's doing her best to take as many photos in an assortment of bathing suits as possible. Usually, Jordyn keeps her Instagram pretty PG, but these new photos are absolute FIRE, showing off her curves like you wouldn't even believe:
:inserts fire emoji here:
:double fire emoji for this one:
So yeah, our girl Jordyn is CRUSHING the Insta game with these photos that are giving off the ultimate vacation vibes.
When Kylie Jenner finally revealed the birth of her daughter, Stormi, Jordyn Woods posted an incredibly sweet message on her Instagram alongside a photo Woods and her BFF. She wrote,
Your growth and maturity over this time never failed to amaze me. So excited for this new addition! Wifey 4L 💕
But it gets even cuter, because when a video of Kylie throughout the months of her pregnancy was made public, it was clear that Jordyn Woods was there for Jenner every step of the way.
In the video, we see Woods talking into the camera, saying, "Your mother and I were living our lives, having fun. She met your father, and they just hit it off, chemistry."
Then, the video shows a collage of moments of Kylie's relationship with Travis Scott, and we hear Jordyn once more talking to the yet-to-be-born Stormi:
One day, I was in your mom's bathroom with her and she took a little test. [Kylie's friend] were sitting in the tub, I was standing by the counter ... and then she passed it to me after like, "surprise." She just looked at me weird and I'm like, "what?" And I didn't know that's what she was doing so when she passed it to me I was like [surprised face].
Pretty crazy that Jordyn was there from the moment Kylie realized she was pregnant, right?
Later on in the video, Jordyn says something so beautiful and in a way that only a best friend could make you cry. She said,
When you're 20 years old, you're just figuring out your life. You don't know what you want, you're an indecisive teenager and you're just becoming a young adult, and there was one thing that your mom knew for sure, and that was you.
Jordyn, why you gotta make me so emotional? Can you please just stick to looking beautiful while sunbathing in Mexico? Is that so hard to ask?
It's clear that Kylie Jenner and Jordyn Woods have the best friendship, so we can't wait for Woods to come back and spend some quality time with her BFF and Stormi. Can you even imagine how many selfies are going to be taken?
Get ready for an infinite amount of selfies, y'all.