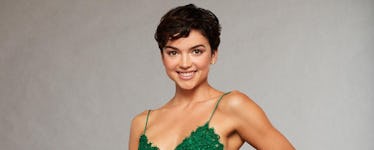 Bekah From 'The Bachelor' Used To Have Blonde & Pink Hair & She's Totally Unrecognizable
The Bachelor
I'm pretty sure everyone can admit that a hair change, whether small or drastic, can change up your whole look. One day you may consider blunt bangs, the next a color change, or even chopping it all off post-breakup. Photos of Bekah from The Bachelor with pink hair make her unrecognizable, but in the best way possible. Seriously, girl has an affinity for changing up her look, and I'm so here for it.
Even if you don't watch The Bachelor, it's kind of difficult to steer clear from the gossip during the season. Kicking off this year, all anyone can talk about is contestant Bekah Martinez and how she's the first-ever Bachelor/Bachelorette contender to rock short hair. While I'm super obsessed with her shorter look, I did some digging on her Instagram and not only has she played around with length, but she's also dyed her hair pink, blonde, silver, and blue. At 22 years old, Martinez has already transformed herself more times than people do in a lifetime.
Before you think I went all creeper status and scrolled back like five years, Martinez is fairly new to IG, with her first Instagram post popping up in 2015. Back then, Martinez had naturally black hair, which she pretty much kept shoulder length. Although her natural hair is super cute, I'm obsessed with her chameleon-like affinity for color.
If reducing mindless scrolling on Instagram was a 2018 resolution of yours, don't worry, because I did the dirty work for you.
The first time you can see Martinez going pink is when she subtly added it to her ends. She followed that up by going super anime and dying it a pale, bubblegum pink. This is like the color every women wishes she had the guts to dye her hair, but settles for nothing more than a trim at the salon. In Instagram time, it looks like her dye job only lasted for two months, but even I'm guilty of posting pictures from months ago, so it could have lasted way longer.
In addition to the pastel pink, she's also rocked bright blue.
Once upon a time she had a dalliance with platinum blonde, which is totally giving me Kate Bosworth in Blue Crush vibes.
And here she is experimenting with an ashy silver, which is set to be a huge hair color trend for 2018. Prescient much?
Each time Martinez has updated her hair, it's given her a whole new look. Personally, I prefer her current style, because I think her recent short dark hair is to die for. It's super versatile, because not only can she grunge her look up a bit, but it also fits her vintage, classic style.
One day she can pay homage to the scene days...
And the next she can totally look like she's ready to meet Luyendyk's parents in the hometown episode.
Although a pixie cut doesn't compliment my face shape, I've always loved the style on women that confidently sport it. Interestingly enough, Martinez is actually the first contestant to ever rock a pixie. No, I promise you didn't catch a case of the midday Monday slump. Bekah Martinez is the first contestant to ever rock a pixie cut. The shortest cut fans have ever seen is just grazing the shoulders. How crazy is that? In 22 seasons, not one Bachelor woman has gone shorter than just grazing the shoulders. Whether it's a sign of the times or just a phase, I bet both short and long haired women alike appreciate seeing a fresh new style represented on the show.
When she plays up her look I totally could see her being a part of The Heathers, but I don't think "mean girl" is going to be her kitsch.
Whether or not she catches Luyendyk's heart and gets the final rose, I definitely think The Bachelor isn't the last fans will see of Martinez, and I can't wait to see what hair style she tries next.