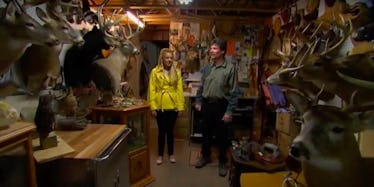 The 7 Most Awkward Hometown Dates In 'Bachelor' And 'Bachelorette' History
YouTube
The best episode during the entire season of The Bachelor and The Bachelorette is hometown visits.
As if meeting the fam isn't hard enough, the Bachelor/Bachelorette has to meet four families, awkwardly laugh at every bad dad joke, and have a serious talk with everyone's mom. Ick, I'm tired just thinking about it.
While some hometowns totally hit it out of the park, others are... weird. These are the seven most awkward hometown dates in history. They're almost too painful to watch. Well, almost.
1. Ali Fedotowsky Meets Kirk DeWindt's Family During Season 6
Being a taxidermist as a hobby is a little creepy. Asking Ali if she wants to see your basement is the creepiest. Rewatching this hometown date made me feel weird. Kirk DeWindt was a genuinely nice guy, so I really want to believe he has a nice family.
However, if your dad likes to stuff dead animals, you need to put that in check.
2. Brad Womack Learns About Shawntel Newton's Job During Season 15
Season 15 was the season of too many contestants with similar names (aka Shawntel/Chantal). During Newton's hometown, she got to show Brad her workplace. Fun, right? I guess it depends on your definition of fun. Newton was a funeral director and gave Womack the low down on everything he didn't want to know about death. Womack is clearly very uncomfortable.
What makes this date so awkward is Newton can see he's not cool with this train wreck of a hometown and is uncomfortably laughing the entire time. The only thing that makes talking about cremation creepier is doing it while giggling a lot.
3. Nick Viall Goes To Canada To Meet Vanessa Grimaldi's Family
This, like, literally just happened — so you should remember, too. I'm sorry, but I like a nice, intimate hometown date. Meet the parents and sibs, maybe a grandparent — but no more than that. Vanessa invited the whole damn clan. How do you even get to know someone like that?
4. Ben Higgins Gets Grilled At JoJo Fletcher's House
Ben Higgins walked into a tough crowd when he visited JoJo Fletcher's house in Dallas.
Her brothers grilled him — this short clip doesn't really do it justice. The two demanded answers from Higgins, and thought he was being shady dating four girls at once. TBH, JoJo's brother, Ben Patton, has been on a dating reality show, so... not sure why he was getting so judge-y.
All the drama was so overwhelming, JoJo's mom made her iconic chug out of the wine bottle.
5. Tenley Molzahn Dances For Jake Pavelka
Jake Pavelka physically upsets me — he's so cheesy. Tenley Molzahn was one of the sweetest women to grace reality television. During her hometown date, she took Pavelka dancing. Instead of the two dancing together, Tenley, um, performed for him. A clip of the whole performance was, like, impossible to find. Go to 1:40 in the video above for a small shot. Trust me, it was uncomfortable.
In the end, he ended up picking Vienna Girardi. Even though they have since broken up, those two were made for each other.
6. Ben Higgins Gets A Sneak Peak Into Parenthood With Amanda Stanton
When Ben Higgins initially met Amanda Stanton's adorable children, all seemed well. It was a cute beach date, but then... the girls got tired. The car ride turned a bit rough. While Ben said all the right things, his face yelled his true feelings about parenthood loud and clear.
7. Matt Grant Basically Gets Punk'd
This season's theme was "London Calling," and it was just OK. When Grant went to meet Amanda Rantuccio's family in Tallahassee, things were bizarre. She thought it would be funny to hire actors to play her parents. Rantuccio's fake mom was outrageous and even caressed Grant's nipple. She finally let Grant in on the joke, but it didn't seem to help.
Apparently, the internet doesn't want to remember this either. Instead, I've shared with you a clip of Matt Grant being interviewed by Drew Lachey during an episode of Dance Wars. That was the most 2008 thing I could do.
Hometowns are never easy. However, some are way, way worse than others. These are some important lessons to take away if you're thinking of introducing your significant other to the family. Best of luck!