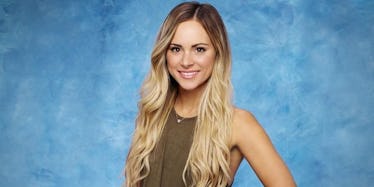 Amanda Stanton Calls Out Haters Over 'Bachelor In Paradise' Backlash
ABC
Even though we might not see the fourth season of Bachelor in Paradise at all, it's somehow provided us with the most drama of any season. Now, Amanda Stanton is responding to some backlash of her own relating to the suspended season.
Since she'd been cast on this season of Bachelor in Paradise, Amanda has apparently been hounded by commenters shaming her decision to leave her two kids (4-year-old Kinsley and 3-year-old Charlie) at home while she filmed in Mexico.
Of course, this is something Amanda has already done twice in the past year. Last year, she was a contestant on Ben Higgins' season of The Bachelor, and a couple months later was part of the cast on the third season of Bachelor in Paradise.
Amanda responded to her haters in on Instagram. According to Entertainment Tonight, Amanda reminded her followers she splits custody of her kids with ex-husband Nick Buonfiglio, so he would presumably be watching them while she was away.
I don't normally like to address the trolls/mom shamers … but it's so out of control! I'd like to take a moment to clarify first of all that my kids DO have a father that is part of their life. They spend time with him, too. So if you see a photo of me without my kids one weekend and comment something like 'mother of the year' or 'wow shouldn't she be with her kids?' Well, there's a VERY good chance that I can't be with them because they're with their dad.
And to clarify the matter even more, Amanda peeled back the Bachelor curtain a bit to reveal that filming BIP does not take nearly as long as many fans assume. So she actually wouldn't be away from her kids for too long at all.
As far as Bachelor in Paradise goes, it doesn't film for very long at ALL. I know it airs for 2 months … but it actually takes a lot less than that to film it. And alllllll the other days, weeks, months of the year, I am with [my kids]! I am fortunate enough to be able to work from home and spend more time with my kids than most parents. My kids are my entire world. I am doing my best to give them a great life.
In the end, the whole point is moot now that Paradise production as been suspended due to allegations of misconduct, and the cast has been sent home after just a day of filming.