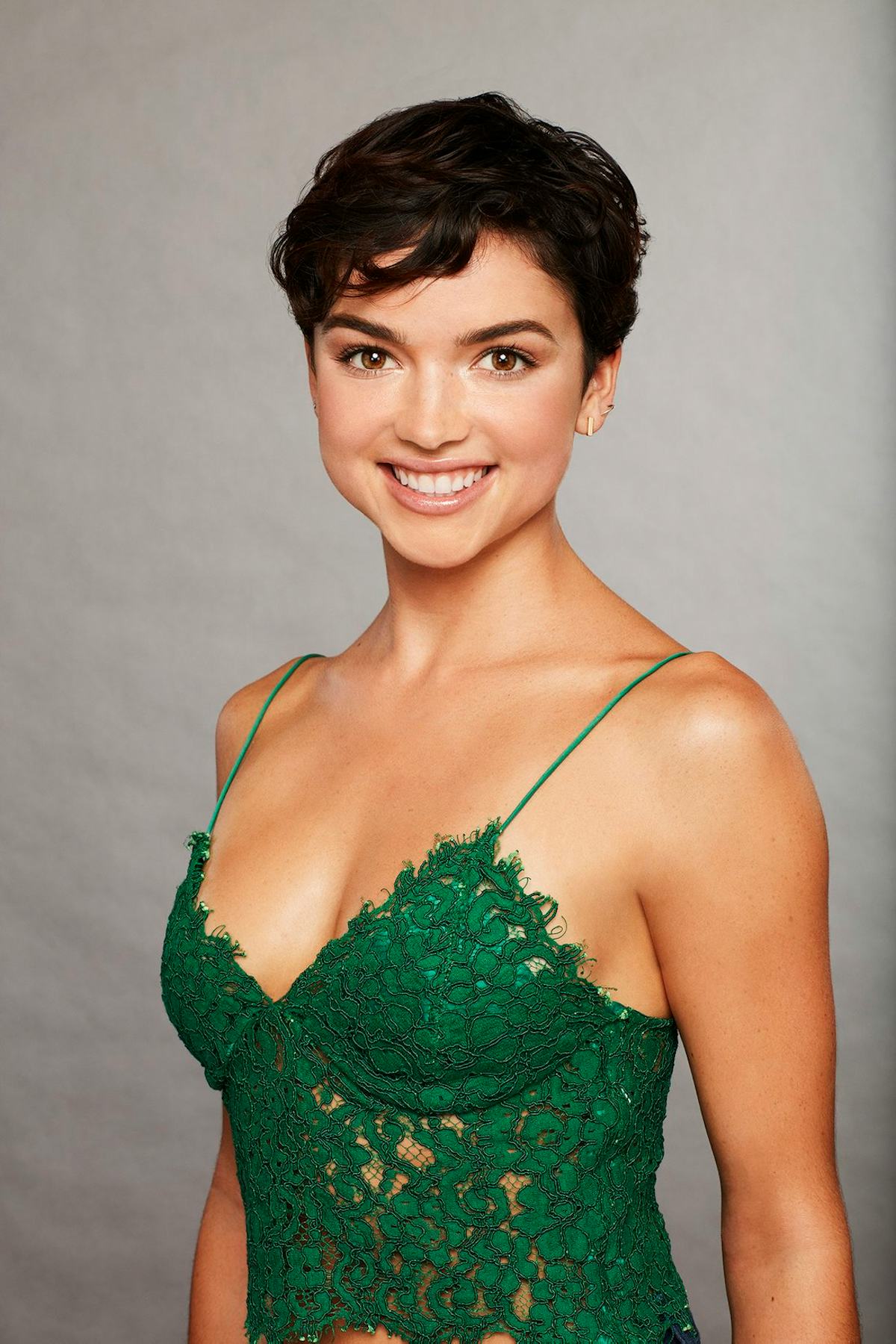 The First Short-Haired Contestant On 'The Bachelor' Used To Look So, So Different
If you're watching the season premier of The Bachelor tonight (Arie Luyendyk was selected as this round's most eligible man), then you might have noticed something unique about one of the women on the show. Bekah M. is The Bachelor's first short-haired contestant ever, which, considering the show has been around for 22 seasons, is slightly shocking...and not in a good way.
I'll be the first to admit that I've watched a few seasons of The Bachelor/ The Bachelorette with my girlfriends, knowing they would be brimming with drama that we could cackle about. We'd sit down with some wine and prepare to unleash a rash of eye rolls, sighs, and WTFs. As much as I hate to admit it, we were entertained by the show and watched it despite the fact that we found it backwards in so many ways.
For one, The Bachelor and The Bachelorette have long come under fire for their lack of racial and ethnic diversity. If you look back at nearly every past cast of both iterations of the show you'll immediately notice that they're overwhelmingly white. To this day, there has never been a black Bachelor and just last year, Rachel Lindsay became the first ever black Bachelorette. 14 men of color were brought on as contestants for Rachel's season (there were 31 contestants total), which made it the most diverse season in the network's 14-year history. Is that problematic, or is that problematic?
Less surprisingly (but equally as disappointing), the show has yet to feature a gay Bachelor or Bachelorette. And last year, Jaimi King became the franchise's first openly bisexual contestant. ABC, it's 2017 — wake up and try representing what single America actually looks like on your network.
Sadly, the lack of diversity doesn't stop there. While hair length might seem like a trivial issue compared to the above points (and it is), it's still important to talk about. Every new season of The Bachelor brings with it a group of women who almost exclusively have hair that falls past their shoulders in identical loose waves. It's like they all visited the same hairdresser in Stepford, CT, and it totally perpetuates the ideas that men prefer long hair (false) and that long hair is the most beautiful and sexy (also false).
While some seasons have featured women with hair that just grazed contestants' shoulders — namely Nick Viall's season, which aired in 2016 —none have included contestants with a pixie cut. None, that is, until now. Bekah Martinez, who we met tonight during the season 22 premiere starring Arie Luyendyk Jr. (he is race car driver who was the runner-up on The Bachelorette five years ago), is the first woman to ever rock a pixie on the show — and rock it, she does. While every other contestant rolled up with long hair, Bekah, who is a nanny, arrived with one of the most gorgeous short crops we've ever seen.
It's dark brown, slightly wavy, and gives me serious Audrey Hepburn vibes. She. Looks. STUNNING. Her mint green spaghetti strap dress and crystal choker were also a far cry from the sartorial aesthetic that most other girls went for, so naturally I did some Instagram trolling and discovered that Bekah's IRL style is to die for. It's slightly, boho, slightly vintage, and definitely edgy, and is a far cry from what pretty much all past contestants on The Bachelor have worn.
Upon going further back into Bekah's feed, I discovered that her hair not only used to be longer, but was also dyed a silvery blonde. She'd look gorgeous with any hairstyle (she's a total stunner), but her new crop completely transforms her look, and I am living for it.
Hopefully, Bekah will help show The Bachelor franchise and viewers alike that hair length has absolutely nothing to do with a woman's beauty or desirability. (It's so sad to think this is still an issue.) Hopefully, future seasons of the show will embrace diversity of all types, because that's truly beautiful.