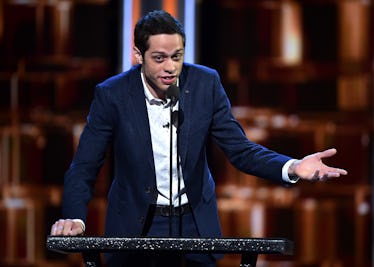 Pete Davidson Opened Up About His Mental Health In The Realest, Most Raw Way
Alberto E. Rodriguez/Getty Images Entertainment/Getty Images
Try as we may to normalize conversations about mental health, the topic is still a very sensitive one to address. Generally speaking, those struggling with mental health, or who know someone who is, will often tread lightly around the discussion, but when Pete Davidson opened up about his mental health in a recent interview with Variety, the SNL cast member approached the subject without hesitation, shedding light on some of the darkest moments of his life in the only way he knows how: raw. And while you may have already heard bits and pieces of the comedian's mental health struggles through the grapevine, you've probably never heard his story told this way.
On SNL, Davidson's skits are obviously calculated to make sure he gets the butt of the joke just right. Sitting down with the entertainment news magazine, however, you can tell by his wording that the 24-year-old is being completely candid. If you've watched his stand-up routines (and if you haven't, I highly suggest you do), then you already know that that's just how Ariana Grande's husband-to-be rolls — he says what's on his mind, regardless of who might be listening. But, judging by his wording, and the subject matter at hand, Davidson seems to be aware that in this particular interview, he's speaking to a very specific audience — one that needs to hear what he has to say about mental health, enduring it, and working through it.
Davidson told Variety that he attributes a lot of his comedic success to the passing of his father, Scott, who died while working as a firefighter during the 9/11 attacks, when Pete was just 7 years old. "If my dad didn't die, I wouldn't be a comic," he told the outlet. "I'd be a construction worker in Staten Island or a basketball coach."
The comic features his late father in a lot of his stand-up material, but even though he feels comfortable making light of an otherwise dark time in his life, don't be fooled. Davidson's father's death took a heavy toll on his mental health: At just 9 years old, he told Variety, he made an attempt to drown himself in a pool. He's been "in and out of mental health facilities since," he said.
Still, had it not been for the loss of his father, the performer said he may never have developed the carefree attitude his fans know and love:
To learn how anything can just be taken away from you early gave me this sense of "F— it. Whatever, dude." I'm able to do stand-up and f— around because hopefully the worst thing that has ever happened to me happened.
Unfortunately, the death of Davidson's father wasn't the only hardship he endured over the years. When he was in high school, the SNL cast member was diagnosed with Crohn's disease, an inflammatory bowel disease that can cause severe stomach pain, nausea, malnutrition, and fatigue, among other debilitating symptoms. "Some days he was in so much pain he couldn't get out of bed," Pete's mother, Amy Davidson, told Variety over email. Then, in September 2017, on a segment of the podcast WTF With Marc Maron, Davidson opened up about his struggle with borderline personality disorder, a mental illness that causes intense mood swings, poor self-image, and erratic behavior.
Davidson's had it rough over the past few years, he told Variety, but with new medication, and after becoming more educated on mental health, he told the publication he's put in a lot of time and effort to get back on track and feel his best again, which has included the decision to take himself off social media. He told Variety,
The internet is evil, and I don't like how it affects me. I don't like how the internet is a place where anybody can s— on you and make anything up.
I've worked really hard to get my brain to this place. I can't go online like everybody else because it's just a f–k-fest. And now I get to enjoy my life."
Navigating the ins and outs of mental health struggles can be extremely difficult on your own, so it's important to have a support system to lean on. For example, Davidson's mother, Amy, told Variety that when her son was in high school, she would encourage him to push through the pain of Crohn's by making a deal of sorts with him: If he got through the day, he could go into the city and do stand-up. These days, Grande has also joined the ranks of #TeamPete, offering her love, support, and coming to Davidson's defense on social media whenever someone tries to mess with him. He told Variety,
I can't even put into words how great of a person [Ariana Grande] is. I could cry. She's the f—ing coolest, hottest, nicest person I've ever met. I'm f—ing living the goddamn dream.
I'm not crying, you're crying.
As Carl Sheperis, PhD, NCC, CCMHC, MAC, ACS, LPC, interim president and CEO of the National Board for Certified Counselors, Inc. and Affiliates, told Elite Daily in a previous interview, mental health is synonymous with mental wellness, and it's something everyone is bound to struggle with from time to time. It's so important to raise awareness when it comes to mental health, and Davidson is proof that you can not only be candid and open about the subject without being judged or shamed for doing so, but you can also find the help and treatment you need when you're going through a difficult time.
You don't have to be afraid to be open up about the very real struggle you're going through. But, if you aren't at the point where you feel comfortable opening up to the general public, that's absolutely fine and up to your discretion. However, if you are struggling, don't hesitate to reach out to a professional for help. You can find plenty of helpful resources on the National Institute of Mental Health website, as well as the Suicide Prevention Lifeline.