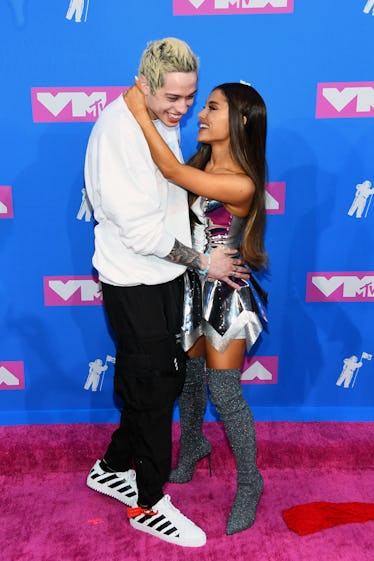 How Ariana Grande Changed Pete Davidson's Views On Marriage Will Make You Swoon
Nicholas Hunt/Getty Images Entertainment/Getty Images
Pete Davidson and Ariana Grande are in love. Like, really in love. And sometimes, when it's so obvious that two people are head-over-heels in love with each other, it can make me want to roll my eyes and ask them to politely turn things down a notch. But nope, not with these two! I ship these two hard — and not just because I think they really are good for each other, but because I think they've both affected each other's lives for the for the better. So what if they had a quick-as-lightning engagement? All that matters is how evident their love is for each other, and honestly, Pete Davidson's comments about Ariana Grande totally changing his viewpoint on the idea of marriage is actual #couplegoals, so don't even try to @ me.
In a new interview with Variety, Davidson opened up about his surprising proposal to Ariana Grande, his disbelief that she even said yes, and how she changed his entire view of marriage.
Describing his proposal, Davidson said, "I didn't want to do something corny. We were in bed hanging, after watching a movie. I was like, 'Will you marry me?' It was really dope."
Honestly, it sounds pretty laid back and very untraditional — but Ariana actually preferred it that way. He didn't even get down on one knee, and in an interview with People, Grande revealed that she was actually grateful he didn't. "Thank God. No, that would've been so googly," she said, adding, "I'm not like a very traditional person so the fact that I'm getting married is something I never even saw coming. I never saw that coming, I never wanted that."
Apparently, the feeling about not wanting to get married was mutual, because Davidson told Variety that he didn't think that marriage was in the cards for him because he didn't believe someone like Grande existed. He said"
I never thought I'd meet anyone like her. I can't even put into words how great of a person she is. I could cry. She's the f*cking coolest, hottest, nicest person I've ever met. I'm f*cking living the goddamn dream. I feel like I'm living in a fantasyland.
BRB, swooning.
He also told the magazine that he was nervous about asking for her hand in marriage, telling the publication, "I'm still convinced she's blind or hit her head really hard. Something is going to happen, and she's going to be like, 'What the f*ck is this thing doing around?' For right now, it's rocking."
OR maybe she just really loves you and you two have a connection that nobody can deny, Pete! Have some confidence, buddy.
And if he's still having a hard time believing that Ariana Grande is going to be ~his wife~, then perhaps he should watch her interview with Good Morning America's Michael Strahan, where she talked about how Pete Davidson is her soulmate. She said, "I mean, it's just like a feeling. That's so cheesy ... You just feel it, you know? All of it. He just ticks every box, and just gets better every day, and I'm very grateful for him. Life is beautiful."
Standing ovation for these two, who clearly know how to do this whole "falling in love" thing suuuper well.