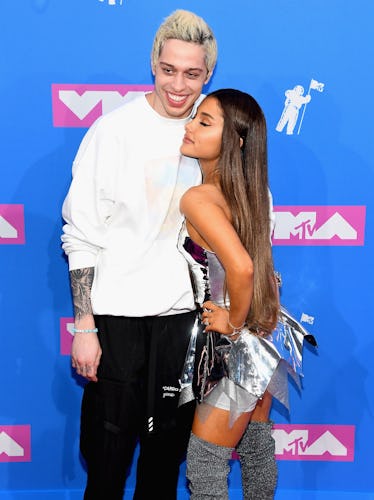 Ariana Grande Admitted She & Pete Davidson Are "So Annoying," Not That She Cares
Nicholas Hunt/Getty Images Entertainment/Getty Images
Ariana Grande and Pete Davidson are annoying, but they know that. Grande stopped by Good Morning America to speak with Michael Strahan about Sweetener, her plans for a tour, and her personal life, so, naturally, Davidson came up. And just like most of the interviews both of them have done lately, they were both in the studio when recording the interview. Ariana Grande's comments about her and Pete Davidson being annoying are all the acknowledgment I needed, TBH. They're that annoying, lovey-dovey couple that can't get enough of their PDAs, but the worst part about couples like that are the ones who don't acknowledge what they're doing. So, we stan a self-aware queen.
"We're so annoying, huh? It must be the worst," Grande said to Strahan when he pointed out that their romance has been fun to watch unfold all over social media.
When asked how she knew Davidson was her soulmate (which she revealed on the "Pete Davidson" track on her album), she said, "I mean, it's just like a feeling. That's so cheesy. Like, people are always like, 'When you know, you know.' And you're like, 'Oh, yeah. Whatever. OK.'" But he really is her match. She said,
You just feel it, you know? All of it. He just ticks every box, and just gets better every day, and I'm very grateful for him. Life is beautiful.
When Strahan inevitably asked about the "Pete Davidson" track on the album, Grande said she named it after him because she basically had no other ideas that felt like a fit. "I didn't know what to call it," she said, "'Cause I was like... I made it just to, like, send to him, you know, as just like a nice little sentiment. Like a love letter."
She apparently wrote the song and sent it to Davidson just one week after they started dating. (Bold move, Grande. Bold move.) In an appearance on The Tonight Show, the "God Is A Woman" singer told Jimmy Fallon that her feelings for Davidson were so immediate when she met him on the SNL set, she predicted she was going to marry him right then and there. She said,
I, like, left his writer's room when we were, like, writing skits and stuff for the show, and my tour manager, Roshad [Ismail] was in the hallway. And I'm not a crush-y person, I don't have, like, crushes on people I don't know. I'm not crush-y, but I left and I jokingly said to my tour manager, 'I'm marrying him, 100%.' I was like, 'I'm literally marrying him.' We weren't even friends, I didn't see him at the after-party, like none of that.
Based on that, it should come as no surprise that she wrote "Pete Davidson" just a week into their relationship. "[I wrote it] like a week after we started hanging out," she told Fallon.
So yeah, everything about their relationship has been zero to 100 in three seconds.
And they know how intense and crazy it all must seem to people on the outside looking in. Grande poked fun at her and her fiancé when she posted the above Instagram and said, "Subtle jus like our love." Self-awareness is key, my friends.
Grande also told Strahan that the wedding will be sometime in 2019. "My friends and I, my mom and everybody, have been, like, brainstorming and sharing ideas and stuff. It's really fun," she said. "I work so much. I've never, like, spent this much time or energy planning something personal. I might cry. I'm just excited." Yeah, we can tell.