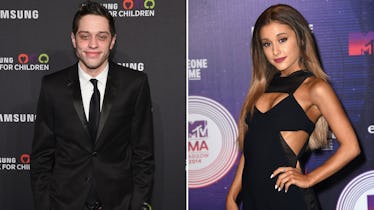 The Jeweler That Made Ariana Grande's Ring Just Revealed A Shocking New Detail
Bryan Bedder/Ian Gavan/Getty Images Entertainment/Getty Images
Are you totally over this whole "Pete Davidson and Ariana Grande are reportedly engaged" thing yet? Good, me neither. So it's a pretty well-known fact that, after just a few weeks of dating, Saturday Night Live comedian Pete Davidson reportedly proposed to singer Ariana Grande. If that's not astonishing enough, there are reports that the engagement ring cost Davidson a cool $93,000. On top of that, the jeweler behind the custom-made ring, Greg Yuna, has shined a light on a few tidbits of information that the world was not otherwise privy to. That's right, Pete Davidson's jeweler revealed new details about Ariana Grande's ring, and it's actually surprising and somewhat confusing, because, you know, a sudden engagement and a ring that's worth nearly $100K isn't enough to overload you.
We first learned from TMZ on June 12 that the massive bling on Grande's finger reportedly set Davidson back a cool $93K, which, if you've seen the ring, looks about right. Because spoiler alert: the thing is gigantic. Sources close to the reportedly engaged couple told the publication that the ring, commissioned by NYC jeweler Greg Yuna, is a "VVS1 clarity diamond set in platinum" and took two weeks to complete. If you haven't seen the rock yet, I highly suggest you wear shades:
BLING BLING, ARIANA'S GOT THE RING, Y'ALL.
According to a report from Us Weekly, Grande and Davidson "were telling people that they're engaged" at Robert Pattinson's birthday party in Los Angeles this past Saturday, June 9. Elite Daily reached out to both Grande and Davidson's teams for comment, but have not heard back at the time of publication.
But now, jeweler Yuna spoke with E! News to drop a few gems of info (LOL, get it) on us. He confirmed that he did, in fact, design the three-carat ring for Davidson, but had no idea who it was being made for. And not only that, Yuna revealed when Davidson called him up and asked him to begin the ring creation, and the timeframe is sort of unbelievable. He said,
Pete called me at the end of May and said 'Look, I'm getting a ring. This is what I want.' And I told him that I had the right ring for him. He didn't tell me who it was for but told me to keep it a secret. He didn't tell me anything about it.
Wait, wait, wait... what?
Let's think about this for a hot minute. If we're looking at the timeline of Ariana Grande and Pete Davidson's relationship, it's clear that they met in 2016, but both had a significant other at the time. Now flash forward to 2018. By May 9, we learned of Ariana Grande's split with boyfriend Mac Miller, and then on May 16, Davidson revealed that he had broken up with his long-term girlfriend, Cazzie David.
But considering Grande was first seen rocking the ring onstage at Wango Tango in Los Angeles on June 2...
...the earliest Davidson could have called Yuna to make the ring was on May 19 — just three days after Davidson confirmed his breakup with Cazzie David.
And if Davidson just got out of a two-year relationship in mid-May, then that means that within the last two weeks of May, he dated, fell in love with, and decided he wanted to propose to Ariana Grande.
Are you shook? Confused? Don't worry, you're not alone. Check out this literal calendar of events that Twitter user Nicole Boyce expertly crafted:
If it seems like Grande and Davidson are cramming like, five years of a committed relationship into a few short weeks, that's because they seemingly are. And, while it's definitely a head-scratcher, we don't really know the full story (and we're not them, so we don't know how they feel). One Twitter user has a pretty convincing theory about Grande and Davidson's fast-paced relationship, and I think that it accurately sums up the vibes being put out as of right now.
Basically, this Twitter user believes that the two met years ago (which they did) and always had the other in mind, despite being in long-term relationships. In a series of tweets, she talks about how the pair remained close, but their timing was always off — until Grande split with Miller, and Davidson split with David:
to sum it up: the timing was never right for them and when they realized they were unhappy in their other relationships, they realized they should have been together and the feelings were still there so that's why they got together so fast! thank you for coming to my ted talk
While it might not be totally concrete, I think this theory is a definite possibility — and at this point, I think we're all just trying to decode this relationship, so I'll take what I can get.
Neither Grande nor Davidson have definitively confirmed the status of their relationship yet, but you can bet that I'll be stalking their social media accounts until they do.