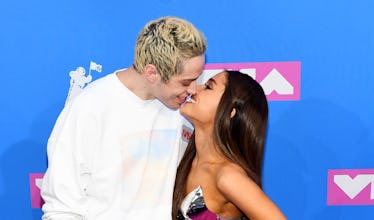 Pete Davidson's One Concern About His Relationship With Ariana Grande Is So Extreme
Nicholas Hunt/Getty Images Entertainment/Getty Images
Pete Davidson and Ariana Grande's romance happened so lightning-fast, it's understandable if the Saturday Night Live star is having trouble believing it himself. If you've kept up with pop culture at all this summer, then you've definitely heard about Ari and Pete. The two were like magnets attracted to each other immediately following Grande's breakup with Mac Miller and Davidson's split with Cazzie David. In just a few weeks, Davidson put a major ring on the "Sweetener" singer's finger. Now, he's questioning if this is real life. Pete Davidson's comments about Ariana Grande possibly dumping him are obviously not rooted in any sort of reality, but I see where he's coming from. Some things in life definitely feel too good to be true, and to Davidson, being engaged to Ariana Grande is one of them.
Since making their relationship oh-so-public, Davidson made the decision to hop off of social media. Thanks to his new fiancée's megastardom, trolls and haters were at an all-time high weighing in on everything he said and did. In an interview with Variety, Davidson got candid about how truly stellar things are with Grande and why his decision to leave social media is for the better. "The internet is evil, and I don't like how it affects me," he said. "I don't like how the internet is a place where anybody can sh*t on you and make anything up. I've worked really hard to get my brain to this place. I can't go online like everybody else because it's just a f*ck-fest. And now I get to enjoy my life."
...And enjoying his life, he is. Whenever something is going so, so well, it makes sense if there's a little lingering paranoia about it all ending out of nowhere. Davidson said, "I'm still convinced she's blind or hit her head really hard. Something is going to happen, and she's going to be like, 'What the f*ck is this thing doing around?' For right now, it's rocking."
Like, really-really rocking. "I never thought I'd meet anyone like her," he continued.
I can't even put into words how great of a person she is. I could cry. She's the f*cking coolest, hottest, nicest person I've ever met... I'm f*cking living the goddamn dream. I feel like I'm living in a fantasyland.
For now, the couple is moving slowly on wedding plans, though Grande recently revealed they're thinking about scheduling the big event for sometime next year. Davidson let Variety in on his proposal, which went down exactly how you might think. "I didn't want to do something corny," he said. "We were in bed hanging, after watching a movie. I was like, 'Will you marry me?' It was really dope." At a different point, he also said, "We didn't know another person could feel — or treat a person — like that."
To be honest, the way these two talk about each other is exactly the way I'd want a significant other to think and talk about me. I'm all the way on board, you guys. More power to ya.