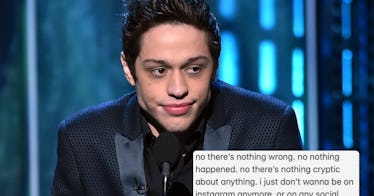 Pete Davidson Just Explained The Sad Reason Why He Deleted His Instagram & It Makes Sense
Kevin Winter/Getty Images
Everyone needs a social media break from time to time, even Pete Davidson. The 24-year-old comedian recently made the decision to take a step back from Instagram. Amid all the gossip, rumors, and speculation regarding his engagement to Ariana Grande, Davidson has had to grapple with a lot of interesting (and sometimes negative) feedback on social media. And Pete Davidson's comments about why he deleted his Instagram are an important lesson on why taking a break from social media can be a necessary and healthy thing to do.
Davidson deleted all of his Instagram posts on July 23 and in a new post published to his Instagram Story just hours later, Davidson gave a lengthy explanation as to why he made the bold move. In his post, he revealed that he didn't want to be associated with any social media platform whatsoever and it had nothing to do with something being wrong.
"No there's nothing wrong. No nothing happened. No there's nothing cryptic about anything. I just don't wanna be on Instagram anymore. Or on any social media platform," Davidson explained.
But something was wrong — just not with his relationship with Grande. In his post, Davidson went on to talk about how the Internet doesn't always make him "feel good," which is totally valid.
"The internet is an evil place and it doesn't make me feel good," the comedian said. "Why should I spend any time on negative energy when my real life is f*king lit. The fact that I even have to say this proves my point. I love you all and I'm sure I'll be back at some point. :) your neighborhood goon, Pete."
Wow, those are some powerful words. And they're so important in today's social media landscape, which can be incredibly toxic.
Davidson's been getting a lot of heat lately for some of his social media antics. Just a few days ago, on July 19, Grande posted a photo of herself with her grandfather on the fourth anniversary of his death. In the comments, Davidson wrote, "omg what a cutie" and fans went in on him for what they perceived as an inappropriate comment.
And just a few weeks prior, Davidson was under fire for a joke he made about the 2017 Manchester terrorist attack, which happened at one of Grande's concerts.
At the time, People magazine reported that the joke was taken out of context. At least, according to a source close to Davidson.
"The joke was taken out of context," the source said. "He lost his dad in 9/11 and is close with other victims of violent tragedies. As a way of coping he turns to humor."
Then, as if all that wasn't enough, Davidson was called out on social media for giving Grande his late father's pendant, which he also gave to his ex Cazzie David. Davidson clarified his gift to both women in an Instagram comment.
"Actually I didn't give that to my ex. Yes she had one but it was a replica," Davidson wrote. "I had a bunch of replicas made. My sister and grandpa also have one. The one that Ari has is the one my dad actually died in and he wore his entire career and the one I've worn for over 17 years. I've actually never taken it off other for SNL or work. So it means a lot to me."
So, Davidson has been dealing with a lot of stuff recently, and it makes total sense that he would need to disengage from social media to take a breath without dealing with all the noise. Good for him!