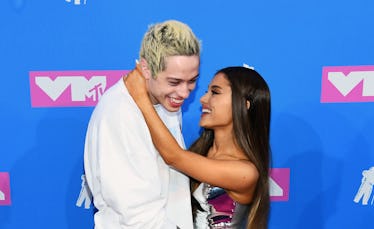 Ariana Grande Is So Excited About Her Wedding, She Nearly Cried While Talking About It
Nicholas Hunt/Getty Images Entertainment/Getty Images
You'd think by now that the Pete Davidson/Ariana Grande hurricane might have blown itself out, but no ma'am. It just keeps gaining momentum and strength, scooping up more fans along for the ride. Wedding details are slowly starting to seep out of the "God Is A Woman" singer and the latest tidbits are extra juicy. In fact, we now have a video of Ariana Grande discussing her wedding, and she's so emotional about it she almost cries. I mean... don't you just love? Anyone can get behind a blushing bride, and Ariana Grande is just that.
During a recent interview with Good Morning America's Michael Strahan, Grande got real about her feelings for her "soul mate" Davidson and where she is in the wedding planning process. Strahan started off by asking the obvious question — when did she know Davidson was the one? She responded, "It's just, like, a feeling, ya know?" K, fair enough. Grande continued, "I know that's so cheesy, people are always like, 'When you know, you know,' and you're like, 'Oh yeah. Whatever, OK,'" adding, "He just ticks every box and it gets better every day. And I'm very grateful for him. Life is beautiful."
Later, when Strahan commented on how fun it's been to watch Davidson and Grande's relationship grow, she laughed, "We're so annoying, huh? It must be the worst."
Hey, your words, Ariana. Not mine.
As for the wedding, these two aren't in a rush per se, but they are excited to make it official. "We're gonna take our time to plan it," she said. "My friends and I, my mom [Joan] and everybody have been brainstorming and sharing ideas and stuff. It's really fun."
Grande said her schedule is mainly what's contributing to a pump on the breaks, but having space and time to make her wedding special feels great.
It's really fun. I work so much. I've never spent this much time or energy planning something personal that feeds my soul so much, and my heart. I'm gonna cry, I'm just so excited. It's sick, it's really fun. But no, it's [the wedding] not soon, soon. It's going to be, like, next year.
For real, she almost does cry. It took me off guard! You can catch the sweet moment in the clip below around the 2:25 timestamp.
Grande also admits to Strahan her song "Pete Davidson" was written as a love letter. Ya know, just like a pop icon 2018 version of a love letter. "I didn't know what to call it [the song]," she said. "Because I was like... I made it just to, like, send to him, you know? As just, like, a nice little sentiment. Like a love letter."
A nice little sentiment... a soaring track on your wildly successful new album... same thing.
While fans will have to wait to see Grande walk down the aisle, they did catch her and Davidson making their first red carpet appearance together at the 2018 MTV VMAs. If that appearance is indicative of what their wedding will be like, we're surely in for an epic, lovey-dovey treat.