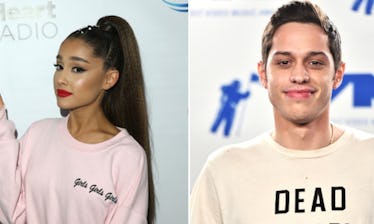 This Fan Theory About Ariana Grande & Pete Davidson's Wedding Date Has Me Shook
GETTY IMAGES/JESSE GRANT + GETTY IMAGES/ALBERTO E. RODRIGUEZ
You probably already know about Ariana Grande and Pete Davidson's matching tats — and no, I'm not referring to their (straight-up adorable) matching cloud tattoos. I'm actually talking about their identical "8418" tattoos, which represent Davidson's father's fireman badge number before he unfortunately died in the New York City terrorist attacks on September 11, 2001. Fans, however, are predicting that the numbers could mean something so much more, and it's literally killing me. If you haven't already checked out Twitter's fan theory on Ariana Grande and Pete Davidson's wedding date, you definitely should. It's actually kind of convincing.
I'm going to start off by addressing the fact that I'm one of the least observant people you'll ever meet, so I always find it so mind-boggling whenever Twitter shows off their keen eye for picking up on these types of things. I seriously don't know how they do it. Anyway, according to Billboard, fans in the Twitterverse are starting to think that the number "8418" also happens to represent a date, 8/4/18. Twitter is predicting that the couple will officially tie the knot on August 4, as yet another little shoutout to the comedian's late father. Elite Daily reached out to both Davidson and Grande's teams for comment, but did not hear back in time for publication. Anyway, the Twitter theories are pretty freakin' believable, so check them out below.
Although the theory is still completely unconfirmed, it definitely has a decent amount of plausibility. I mean, why else would the two decide to hunker down, and get married so, so quickly? Well, 8/4/18 will only occur once in Davidson's lifetime, and I think they wanted to give the number even more meaning to further celebrate his father's life. Honestly, if you think about it, the sentimentality of it all is kind of sweet.
Anyway, to further prove the theory that the two lovebirds would, in fact, get married on the date represented by his father's badge number, Davidson also gave Grande his dad's New York Fire Department pendant. According to Billboard, in the comments section on Instagram, the SNL comedian lovingly addressed the kind gesture by saying, "I gave it to her because she has my heart and that is the most precious thing I own. My dad would be so happy and love her so much." She has my heart? Yeah, she does. His dad would be so happy? Absolutely. It just further proves the theory that they're continuing to commemorate his father, and in case anybody was wondering, I most definitely approve of all of it. They have my blessing.
Although literally everything behind this theory is still unconfirmed, the fact that Davidson and Grande could, in fact, be getting married on August 4, 2018 to commemorate his father's badge number is pretty possible, and I love it. FYI, I will literally clear my schedule if either of them want to invite me to the wedding, and if it ends up being Harry Potter-themed, I call dressing up as Professor Dumbledore. If this is true, we're looking at a wedding that's only a few short weeks away. Cheers!