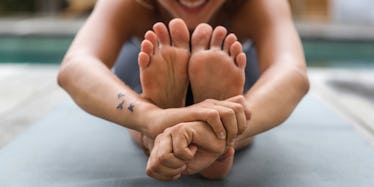 People Who Go To Yoga Class Know These 14 Struggles Are Real AF
If you've quickly fallen in love with your routine yoga practice, then you know the magical, truly blissful feeling that comes with rolling out your mat. You get giddy over the mere thought of your daily flow, and you've been known to casually plan your entire life around your favorite instructor's class. People who go to yoga class solemnly swear by the fact that the highly effective ancient practice truly keeps them sane. But along with all of the magic and feel-good vibes of the practice, there are also a handful of super relatable struggles that dedicated yogis know all too well.
It's true that practicing yoga consistently can make you a much better and more genuine human being, if you apply the principles you learned in class in your life off of the mat. However, that doesn't mean that going to yoga class is all rainbows and butterflies, 24/7. There are so many little struggles that only people who love yoga understand — but don't worry, getting frustrated or tripped up over these things doesn't make you any less ~spiritual~.
If you can't go more than a day without your beloved yoga fix, you'll definitely find these 14 struggles eerily relatable.