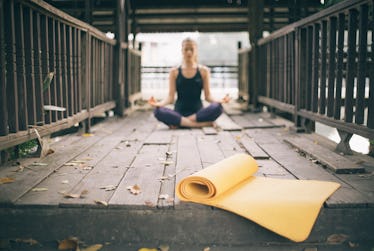 How To Get More Out Of Your Yoga Practice By Doing These 6 Things Off The Mat
If you've taken up a regular yoga practice, you might have noticed how incredible you feel within your mind, body, and soul right after going to your favorite class. The energy you create during your time on the mat is so contagious, and the entire room is filled with good vibes and positive effervescence. Truth be told, though, it's easy to forget about the lessons yoga teaches you the moment you roll up your mat. However, to get more out of your yoga practice, it's important to take the teachings of this ancient practice and translate them into actions within your day-to-day life.
Honestly, you can say "namaste" and bow to your neighbors solemnly during your favorite instructor's feel-good vinyasa flow as much as you want, but if you're not being a good person off the mat, your yoga practice is solely physical. Yoga translates to "union" — union of the mind, body, and spirit. So, while it can be seen as simply a relaxing workout to some, getting the true benefits of your yoga practice requires practicing things like compassion, generosity, and non-attachment in all areas of your life.
The next time you feel those lingering good vibrations after a therapeutic yoga flow, try spreading them with everyone you come in contact with and embedding those sentiments deep within your being for days and days after you've left the studio. Here are six ways you can take what you learned on your yoga mat, and use it to make the most out of your practice, especially when you're not actually in a downward dog.