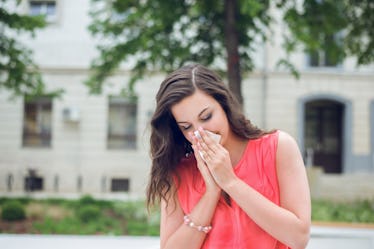 Ask Yourself These 7 Questions To Figure Out If You Have A Cold, Or Just Allergies
Have your Kleenex ready, and your "bless yous" on the tip of your tongue, friends, because sniffle season is upon us. I'm predicting it's about to get breezy and sneezy everywhere you turn, especially considering pollen levels are expected to spike early on this spring. Even though I've been battling allergies since I was born, I'm actually nervous this time around, because figuring out how to tell the difference between allergies and a cold might be slightly more difficult in 2018 compared to seasons past.
According to AccuWeather's 2018 spring allergy forecast, grass and tree pollen are already making the long trek south to north, so if you've been picking at that pesky tickling sensation in your nose, chances are, pollen is the problem. But think about it: Cases of the flu have been ridiculous this year, and a handful of common allergy symptoms overlap with those of the common cold. Unless you're making doctor appointments every other week, how do you differentiate between sniffles and more serious symptoms?
Allergy and cold symptoms are a little too close for comfort. Generally, I'd always suggest consulting with a professional rather than self-diagnosis, but health care sucks, and I totally understand if you'd rather save on gas and forgo a hefty co-pay. Ergo, here are some of the most significant differences between sniffles and cold symptoms to keep in mind this spring.