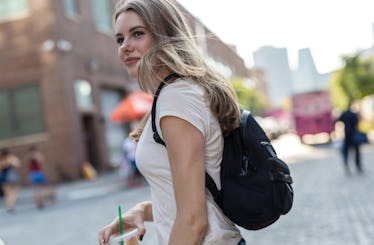 People Who Are Always Running Late Inevitably Have These 14 Things In Common
Good Vibrations Images/Stocksy
So, you're running late. Are you honestly surprised? You're not sure what really slowed you down this time around, but here you are running to wherever you're supposed to be, and hoping your friends saved you a seat. You knew from the minute you hit snooze this morning that you'd inevitably be skipping out on breakfast, or at least just grabbing a bagel to go. Here's to crossing all of your fingers that the train isn't late, too. If you fit into the crew of people who are always late, then this is totally your reality. You try so hard to be on time, but life just seems to get in the way. Don't worry, because you're not alone. Those bustling city streets are filled with people falling a little bit behind, too.
As Julie Andrews said in The Princess Diaries, "A queen is never late. Everyone else is simply early." Now, we may not be royalty, but that sounds like a pretty good life motto to live by, if you ask me. You'd love a little extra time in the morning to get ready, or just sit for a while with your cup of coffee. But, on most days, you're struggling to get out the door and stick to your schedule.
Being late is honestly so common. And if you're anything like me, you normally own it up just to who you are, and you're proud of it. Tardy people, unite! We have these things 14 things in common.