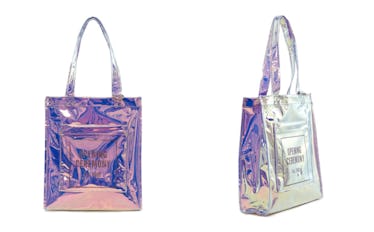 Opening Ceremony Released A Holographic Millennial Lilac Tote & It's Affordable AF
Opening Ceremony
It's been written by the most trustworthy of fashion outlets that beaded and woven purses are the it bags for summer 2018. They're undoubtedly chic and boast a cool retro feel but after seeing Opening Ceremony's mirror tote bags I think I must politely disagree. The tote bags, which feature a cool otherworldly sheen, are decidedly more futuristic than throwback and are unparalleled in their uniqueness—you won't see 20 different versions of them on the arms of half the women on the street. If you want to turn heads and shine this season, these are for you.
If you're familiar with Opening Ceremony then I'm sure the first question on your mind is, Wait, but how much do these totes cost? Fair question, considering the retailer sells brands with the likes of Acne Studios, Helmut Lang, Rodarte, Raf Simons, JW Anderson and more. Fear not: the totes, which are Opening Ceremony brand, will only run you $55 a piece, making them one of the most affordable pieces of luxury fashion you could possibly get your hands on this summer. For comparison, they're around the same price as most Zara bags but I'd bet their quality would trump that of pretty much any fast fashion retailer's.
Now, onto the details of the totes. Made from 100 percent polyurethane and polyester, the bags come in four out-of-this-world shades. There's a metallic fucsia, which would haunt Elle Woods' dream; an edgy gunmetal, which is perfect for those of you who stick to an all-black uniform religiously; a transparent white, which I could never carry because of the gum wrappers and other refuse that litters the cavities of all of my purses; and a holographic millennial lilac, which looks like it was designed by Zenon from Zenon: Girl of the 21st Century. Zetus Lapetus!
Seeing as millennial lilac is the hottest color of the summer (and potentially of the year)—from hair colors to sneakers to makeup and everything in between, the hue is absolutely taking over—my bets are that the purple iteration of the tote bag will fly off shelves. It has a cool effect where the crinkles allow dark and light shades of lilac to appear depending on how the light is hitting the material, allowing it to look like a grape-toned oil slick. It's rad.
All of the totes feature the same design, which includes a roomy interior (this would be the sickest reusable shopping bag EVER) and a patch pocket on the front (it's perfect for your keys, phone, and wallet: the essentials). The pocket is emblazoned with the Opening Ceremony logo so you can wear your brand love with pride. A metal D ring attached to one of the handles finishes off the tote and is just begging to be outfitted with quirky keychains that match the bag's playful vibe.
As if that weren't good enough, the totes are also completely water resistant, meaning they make for ideal beach bags. If you get sand in them it's no problem; simply give them a rinse and they'll be fresh as new.
What do you wear these shiny carryalls with, you ask? Literally anything. Throw them over the shoulder of your favorite floral dress for a pop of shine and texture, or allow them to dress up your favorite jeans and tee combo. If you want to go extra futuristic with your look, I'd recommend pairing them with a pair of cutting edge tiny sunglasses and some brightly hued mascara. If being more fearless with your fashion choices is a goal of yours, these totes are the perfect place to start.