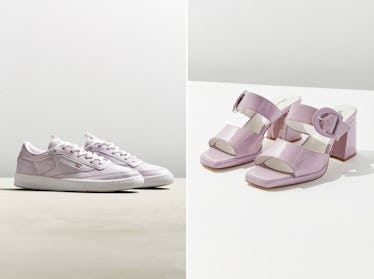 Millennial Lilac Shoes Are Taking Over Instagram & You're Going To Want Every Pair
Urban Outfitters
For the past year or so, one particular shade of dusty pink has been associated with Gen Y-ers and has taken over the fashion and beauty industries. But now, it's purple-hued cousin is coming for its throne in ready-to-wear, makeup, footwear forms, and beyond. Millennial lilac shoes are set to be the must-have item of summer 2018, so get ready to allow your black leather sandals and all-white sneakers to collect some dust this season.
When I think of lilac, I think of the bush of intoxicatingly sweet-scented blooms that lived just off the corner of the porch of my childhood home. Bees would flock to it, my mom would cut off sprigs of it to put in a vase on our kitchen table weekly, and I was of the opinion that it was home to a family of woodland creatures or fairies (I was never sure which). To this day I associate the light purple hue with fantastical, ethereal beings, which is why the spring/summer 2018 catwalks were so magical to me.
Designers the likes of Victoria Beckham, Michael Kors, Ulla Johnson, Dries Van Noten, Bottega Veneta, The Row, Loewe, Erdem, Max Mara, Tom Ford, Roberto Cavalli, and more — in other words, a healthy dose of all of the most important names in fashion — presented collections ripe with the faded grape hue, subsequently coining it the next big color trend. It's lovely, it's soft, it's bold, it's statement-making. It's everything millennial pink was in the height of its glory days and I am so ready to embrace it on my feet, my body, and my face. (Does anyone else remember when wearing lilac eyeshadow from your lash line to your brow was cool?)
Below are 10 of the absolutely best affordable lilac shoes on the market, from the heeled to the strappy to the appropriate. A total footwear fairytale.
Doctor's Orders
My first pair of Dr. Martens were a bright orange color with little red and blue handprints all over them. I was nine, and this purple pair is way cooler.
Pom-ped Up!
I mean, have you ever seen a more fun pair of heels? If playful style is your MO, these would be awesome to wear to weddings, birthdays, and more.
The Clear Winner
Totally 2000s, these slip-on sandals feature a see-through lilac strap and wooden footbed. They're chunky, easy, and don't take themselves too seriously.
Prim & Proper
For if you want to rock the lilac trend, but in a super sleek way. These leather sandals feature a cool twist detail on their lower strap, which features a two-tone color way.
Classic Cool
Vans Old Skools with a purple twist. The best sneakers on earth somehow just got infinitely cooler.
Into the Gloss
Oh god. There goes my last paycheck. These shoes are so rad, from their angular and architectural design to their buckle straps. They would look equally cool with boyfriend jeans as they would a fluttery floral dress. In lilac love.
Ballet Purple
Easy and comfy, these shoes straddle the line between ballet flats and smoking slippers. You could wear them with... anything.
Street Style
From their buttery leather and intricate paneling to their classic silhouette and uber light lilac color, there is nothing I don't like about these sneaks. Pastels are in as a whole for summer and these kicks would amp any outfit up two notches.
Get It Twisted
Strappy sandals are a staple for summer. These boast a cool twisted strap design and flat soles, because comfort is key. Bring on the weird tan lines.
Fuzzy Feelings (and Feet)
The next best thing to your uber fluffy slippers. These are certainly for the bold dressers of the world... and the comfy girls.