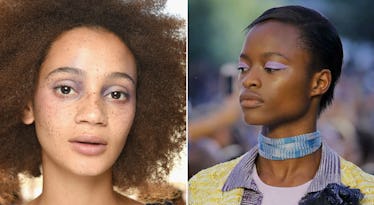 Millennial Lilac Eye Makeup Is Going To Be Everywhere This Summer & It's Stunning
Nicky J Sims/Getty Images Entertainment/Getty Images // Pixelformula/SIPA/REX/Shutterstock
I remember the days when millennial pink was the It Color. Light pink phone case, light pink outfits, light pink toilet paper (OK, maybe not that) — suffice it to say, the color was freaking everywhere. Now, I'm like, "Millennial pink, who???" Just as quickly as the pink craze began, another It Color has swooped in to steal the spotlight. Yes, millennial lilac is the next power pastel in the lineup, and TBH, you've probably already started seeing one iteration of this new color trend everywhere without even realizing it. Millennial lilac makeup has already made its swift entrance onto the beauty scene, and might I just say... she's absolutely gorgeous.
Obviously, the lilac love being thrown around didn't start overnight. Rather, the color crept in slowly on many a runway, as most trends do. Toward the end of 2017, as designers began showing collections for Spring 2018, many luxe fashion brands, from Valentino to Michael Kors to Max Mara, showcased the pastel hue in their collections, whether in accessories, in shoes, or in full-blown shirts, dresses, tops, and pants. But the lilac obsession didn't even stop there. Even more fashion houses eventually brought millennial lilac makeup looks to life in their collections.
Nicky J Sims/Getty Images Entertainment/Getty Images
Nicky J Sims/Getty Images Entertainment/Getty Images
Nicky J Sims/Getty Images Entertainment/Getty Images
Nicky J Sims/Getty Images Entertainment/Getty Images
High-end brands like British shoe designer Sophia Webster and Italian fashion house Missoni used their Spring/Summer 2018 shows as a chance to send some of their models down the runway with absolutely stunning and oh-so-delicate beauty looks featuring lilac on the eyes, as well as on the clothes.
Because lilac is considered a pastel, you might assume the application of this color in a beauty sense should appear soft and ethereal, much like how it is on the Sophia Webster models pictured above. While such a look is perfect if you prefer your brighter colors more subdued, lilac can also work as a more intense, statement color in your beauty look, as evidenced by the thicker, blunter lilac eye makeup looks featured in the Missoni show below.
Pixelformula/SIPA/REX/Shutterstock
Eventually, millennial lilac walked right off the runway and onto the faces of your favorite celebs. (The natural progression of things, wouldn't you think?) Earlier this year, at the 60th annual Grammy Awards, Rihanna slayed with a lilac lid, essentially solidifying this hue as THE color for months to come. A little bit earlier, toward the end of last year, Demi Lovato graced the 2017 InStyle Awards red carpet with an all-over lilac look — I'm talking her dress, her makeup, the works — which means this trend was a long time coming.
Christopher Polk/Getty Images Entertainment/Getty Images
Neilson Barnard/Getty Images Entertainment/Getty Images
Neilson Barnard/Getty Images Entertainment/Getty Images
Now that we've seen millennial lilac makeup on both the runways and the stars, it only makes sense that more and more beauty brands are striking the iron while it's hot. From violet-hued mascara to shimmery lilac shadows, to subtle, lilac-tinted, holographic sheens, lilac is the seemingly the perfect shade to complement both your spring and your summer looks. Considering the overall trends taking over the warmer months are all about making a splash with bright colors, here are a few looks and products you can use to make all your friends lust after your lilac makeup.
Li-lashes
Urban Decay's Double Team Special Effects Mascara ($24, urbandecay.com) boasts a highly pigmented, brightly colored formula, designed to be used on both your lashes and your brows (if you're feeling extra feisty). Each mascara includes a dual-sided applicator with a cream finish on one side and a metallic finish on the other. Layer this baby up for loads of color.
Li-lids
Leave it to Kylie Jenner to be on top of the latest color trends, despite giving birth just before the palette used to create the above look dropped. Using the colors "Aquarius," "Angel," and "Starbaby" from Kylie Cosmetics' Calm Before The Storm Palette ($40, kyliecosmetics.com), Anneloes Debets (@anneloesdebets on Instagram) crafted the most other-wordly millennial lilac look.
Ho-lilac-graph
Finally, if loud versions of the lilac trend aren't really your speed, Glossier's Lidstar ($18, glossier.com) might be more your style. While still providing you with a soft, yet striking shimmer, this long-lasting eye glow with "floating multicolor pearls" creates a mystifying sheen on your eyes that'll last pretty much all day.
Move over, millennial pink. It's millennial lilac's time to shine — literally.