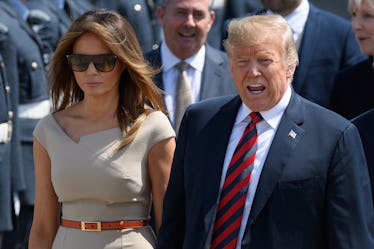 Omarosa Manigault Claims Melania Plans On Divorcing President Trump ASAP In Her New Book
Leon Neal/Getty Images News/Getty Images
UPDATE: In an emailed statement to Elite Daily, the first lady's spokesperson Stephanie Grisham denies Manigault's claims. "As I have stated, Mrs. Trump rarely communicated with her. It is disappointing that the media continues to provide a platform for her self-serving gossip," she says.
EARLIER: We know little about what goes on behind closed doors between first lady Melania Trump and President Donald Trump. But a new book written by a former Trump camp member claims there may be some major trouble in paradise. In her new book, Unhinged: An Insider's Account of the Trump White House, Omarosa Manigault Newman claims Melania plans on divorcing Trump ASAP. Elite Daily reached out to the White House for comment on the claim but did not hear back by the time of publication. In her book, Manigualt Newman — the 44-year-old reality star turned White House aide — goes into detail about how reportedly unhappy the couple's relationship is. According to People, Newman says the fear of President Donald Trump revoking her visa is the only thing keeping Melania from leaving him right now.
According to information Manigault Newman reportedly heard from unnamed "Trumpworld intimates," she claims there's a chance Melania got her Einstein (EB-1) visa with the help of her powerful husband's clout. Now, Manigault Newman hypothesizes in her book that the first lady is only sticking around out of fear of her husband finding a way to "invalidate" the visa if she chose to leave.
"Since Donald is fully aware of however she acquired her permanent citizenship, he could, if there were anything fishy around it, expose the methods and somehow invalidate it," Manigault Newman reportedly wrote. "He is a vindictive man, and I would not put anything past him."
That being said, immigration lawyers told The New York Times earlier this year that she realistically did qualify for this visa without the help of her husband. So I'd take the allegations of Newman and the other "Trumpworld intimates" with a grain of salt.
One way or another, Manigault Newman reportedly believes Trump would make Melania pay if she tried to leave him while in office.
"If Melania were to try to pull the ultimate humiliation and leave him while he's in office, he would find a way to punish her," she reportedly explained. "This is a man who has said he could pardon himself from the Mueller investigation. Why not pardon himself over an alleged visa payoff?"
Manigault Newman reportedly added that, in her opinion, "Melania is counting every minute until he is out of office and she can divorce him." Wow.
In response to Newman's claim, Melania's communications director, Stephanie Grisham, told People on Wednesday:
Mrs. Trump rarely, if ever, interacted with Omarosa. It's disappointing to her that she is lashing out and retaliating in such a self-serving way, especially after all the opportunities given to her by the President.
Elite Daily reached out to Grisham for comment on Manigault Newman's claims but did not receive a response at time of publication.
Throughout her book, Manigault Newman also cites Trump's adulterous behavior when Melania's not around, reportedly claiming he "behaved like a dog off the leash." Elite Daily also reached out to Grisham regarding this particular claim and did not hear back by the time of publication.
Manigault Newman also reportedly believes Trump's alleged affairs with Stormy Daniels and Karen McDougal are just the tip of the iceberg. "It would be safe to assume that there were many others," she writes. That being said, she provides no proof of other relationships and Trump has vehemently denied both alleged affairs. Elite Daily also reached out to Grisham regarding this allegation and did not hear back by the time of publication.
While Trump is portrayed in her book as the alpha in his marriage, Manigualt Newman believes Melania is now starting to assert her power over her husband in small ways.
One legendary example Manigault Newman reportedly cites is the now-infamous time she resisted holding his hand back in April, when they were welcoming President Emmanuel Macron and his wife, Brigitte, to the White House.
"Unlike the past, when [Melania] had no recourse or influence, she no longer had to accept her powerlessness," Manigault Newman reportedly wrote. "I believe that by avoiding Donald's clasp in public, Melania was grasping the full extent of her power."
Another example she reportedly gives is the "I really don't care" jacket she wore, in Manigault Newman's opinon, to "punish" him. Elite Daily reached out to the White House about this claim but did not hear back by the time of publication.
"At any time, if [Melania] so desired, she could humiliate [Donald] in public with small, ambiguous gestures, just as he'd openly humiliated her with his affairs and lascivious behavior for years," Manigault Newman reportedly continued. "And there was nothing anyone could do to stop her."
The publication of Unhinged has sent Trump into one of his trademark Twitter rampages. He most recently referred to Manigault Newman as a "crazed, crying lowlife."
Check out the entire Gen Why series and other videos on Facebook and the Bustle app across Apple TV, Roku, and Amazon Fire TV.
Check out the "Best of Elite Daily" stream in the Bustle App for more stories just like this!