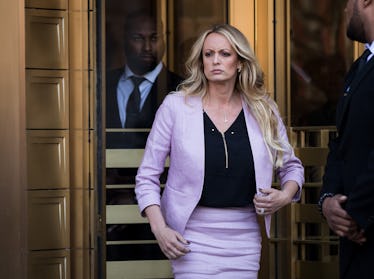 There Might Be DVD Evidence Of Stormy Daniels' Alleged Affair With Trump & OMG
Drew Angerer/Getty Images News/Getty Images
The saga of President Donald Trump and Stormy Daniels clearly isn't going to end anytime soon. The adult film star has taken her claims to the most notable media outlets, consistently claiming that the affair she alleges between her and Trump did, in fact, occur. And Trump, on the other hand, has continuously denied and rebuffed her claims. In this unrelenting game of "He said. She said," there's really only one way to put an end to all of this drama forever: evidence. So, does Stormy Daniels have evidence of an affair with Trump? Her lawyer says she does.
On Friday, April 20, Daniels' lawyer Michael Avenatti appeared on HBO's Real Time With Bill Maher to discuss his client's ongoing legal battles with the president. During the interview, Avenatti was asked about a tweet he posted on March 22, which included a photo of a mysterious DVD and an even sketchier caption that read, "If 'a picture is worth a thousand words,' how many words is this worth?????"
According to Newsweek, Avenatti described the DVD as a "warning shot" to Trump and said that he would possibly release the contents of the disc depending on "how the case progresses." Well then.
Avenatti explained:
Well, we took that picture and we tweeted it out and it was exactly that — it was a warning shot to Michael Cohen and the president that if they tried to claim that my client was a liar after 60 Minutes there was gonna be consequences, and it worked, and it worked perfectly because we heard nothing from them.
Wow. Though Avenatti didn't give all of us skeptics the direct answer we might've been hoping for when it comes to the contents of the disc, if he's right his tweet was enough to rattle both Trump and his lawyer, Michael Cohen. You know something's up if Trump has absolutely nothing to say.
People have guessed that there could be some really compromising footage on the disc due to the settlement agreement between Daniels and Trump — which reportedly included the tidbit that Daniels (under the alias "Peggy Peterson") had "confidential information" on Trump (under the alias "David Dennison"), according to Business Insider. An excerpt of the agreement which referred to each party by the initials of their alias read,
Prior to entering into this agreement, PP came into possession of certain 'Confidential Information' pertaining to DD, as more fully defined below, only some of which is in tangible form, which includes, but is not limited to information, certain still images and/or text messages which were authored by or relate to DD…
So, as Late Night host Seth Meyers once put it, "We are looking at the very real possibility that Donald Trump sent Stormy Daniels a d*ck pic." Yikes.
The White House did not immediately respond to Elite Daily' request for comment on the subject.
Avenatti's tweet came just three days before Daniels (whose real name is Stephanie Clifford) went on 60 Minutes to discuss her alleged affair with Trump, which she claims happened in 2006, and the non-disclosure agreement (NDA) she signed in 2016, allegedly to keep it a secret. Trump has continuously denied her claims of an affair, and the White House has said the statements that Daniels gave in the interview are "not accurate," but neither of those has stopped the actress from sharing her side of the story.
In the 60 Minutes interview, which aired on March 25, Daniels even alleged that she'd been threatened for going public with her story. She told host Anderson Cooper:
I was in a parking lot, going to a fitness class with my infant daughter. T-- taking, you know, the seats facing backwards in the backseat, diaper bag, you know, gettin' all the stuff out. And a guy walked up on me and said to me, 'Leave Trump alone. Forget the story.' And then he leaned around and looked at my daughter and said, 'That's a beautiful little girl. It'd be a shame if something happened to her mom.' And then he was gone.
She also opened up about the NDA she signed in 2016 — just 11 days before the presidential election. According to Daniels, she was paid $130,000 by Cohen in exchange for her silence on the alleged affair. But in early April she filed a lawsuit against Trump to dissolve the agreement, insisting that it's "null and void" because Trump never signed it.
If this DVD is as real as Avenatti claims, things are about to get even uglier than they've already been. I guess we'll just have to follow along and see where the rest of this story goes.