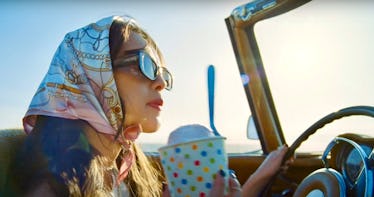 Olivia Rodrigo's "Deja Vu" Video Is Full Of Experiences You Can Do With Your BFF
It's no secret that you and your best friend are true Olivia Rodrigo stans. After the release of "drivers license," you completely ditched your go-to playlists to stream the track on repeat. Then the High School Musical: The Musical: The Series star dropped her second single, "deja vu," on April 1, 2021, along with a vibe-y music video — and your entire spring itinerary — and suddenly spring vacation just got a whole lot more exciting. Where will you and your BFF start on this sweet list of Olivia Rodrigo's "deja vu"-inspired experiences?
Before you map out your schedule, you should consider the latest health and safety guidance from the Centers for Disease Control and Prevention (CDC). Even if you're fully vaccinated, the CDC's guidelines note that the best way to protect yourself and others from spreading and/or contracting the coronavirus is to stay home. You should postpone unnecessary travel plans — even with your bestie — and take necessary precautions like wearing a mask, keeping your hands clean and away from your face, and social distancing with anyone outside of your immediate household if you do happen to step outside.
Luckily, a lot of these Olivia Rodrigo "deja vu"-inspired experiences can be done in the safety of your own car. As Melissa Dohmen, senior communications manager at Orbitz, previously told Elite Daily, "[Your car] hasn't come into contact with anyone else." Or, if need be, these experiences can also be done virtually, so you don't have to miss out on the immaculate vibes and pics. You can participate in these "deja vu"-inspired experiences in your backyard or living room simply by Zooming or FaceTiming your best friend on a sunny Saturday afternoon.
As true Livvies, the only issue you'll run into is deciding which of these experiences to have first — and whether or not you should film said experiences on an old-school video camera. (Hmm, that's a "yes.")