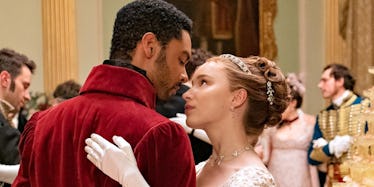 The Best 'Bridgerton' Musical Duets On TikTok Will Have You Singing Along
Netflix
Bridgerton fans have probably found themselves deep within #BridgertonMusical TikTok right about now. The idea was started by TikToker Abigail Barlow who wrote a few songs for the hypothetical show. Now, it's hard not to scroll by some of the best Bridgerton musical duets on TikTok. Everyone's eager to sing along, and a few videos truly prove that this musical needs to happen.
One of Barlow's most popular songs to duet is "Burn For You," which is a duet between Daphne and Simon. Barlow posted a TikTok singing both parts, and then she followed it up with a second video where she just sings Daphne's part so that anyone could duet with her as Simon. It didn't take long before other TikTokers accepted her duet request, and now, there's a whole cast of Simons belting their hearts out.
TikTok makes it easy to get lost in the scroll watching video after video, that before you know it, you're going down a rabbit hole of looking through the hashtag #BridgertonMusical. However, here are some of the best Bridgerton musical duets to check out first and foremost. You never know, these may even inspire you to post your very own Bridgerton duet as well.