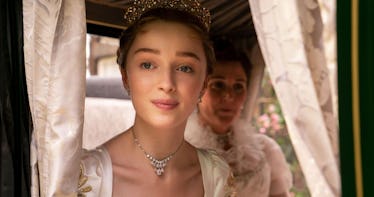 Here's How To Do The 'Bridgerton' Challenge On TikTok & Let The Gossip Begin
Netflix
The Netflix series that has everyone gossiping is Bridgerton. By now, you've likely marathon watched the first season and discussed Season 2 theories with your friends, so the next step would be to join the fun on TikTok and partake in the Bridgerton challenge. You might be wondering how to do the Bridgerton challenge on TikTok, but rest assured it's easier than you might think. It just takes a little stitching to get a video that would definitely have everyone in the Ton talking.
The Bridgerton TikTok trend is actually sponsored by Bridgerton on Netflix. According to the description, "times have changed," so Netflix wants TikTokers to use clips from the show to show off how things have evolved over the years. With topics like flirting and getting ready in the morning, your video will showcase what it was like in the 1800s versus what it's like modern-day.
This is a prime opportunity to show off your sense of humor and get a few LOLs out of your FYP. Big creators like @shreksdumpster and @fibulaa have already stepped up to the challenge with their own videos, so you can scroll through #Bridgerton on your phone for some inspiration. Then, all you need to do is follow these four steps to know exactly how to do the Bridgerton challenge for TikTok.