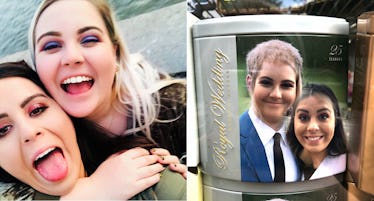 My Partner & I Tried To Be Royals In London Before The Royal Wedding & We're Princesses Now
Theresa Massony
Hi. My name is Theresa, and I just need to get something off my chest. Up until recently, I really, really, really did not buy into all the hype surrounding the upcoming royal wedding. Call me selfish, but I just thought, if I'm not the one who gets to put on an expensive wedding gown and tiara and call myself a princess after, why does it even matter? Well, let's just say, my attitude ever-so-slightly changed after my partner and I went to London just before the royal wedding. From pastries to souvenirs to London's own residents, it seems England's capital city has caught royal wedding fever and passed it along to me in a different way. After soaking up London for a week, it's safe to say my partner and I are most certainly princesses now.
When it was first announced that Prince Harry and Meghan Markle were engaged, I'll admit, I was a little jealous. Not because Meghan was marrying a handsome prince (I am very gay, and I love my girlfriend), but because she was living out so many young girls' dreams of becoming a princess. This isn't to say I'm unfulfilled in my life as it is, but I'd be lying if I said there wasn't still a part of me who cries every time I watch Mia Thermopolis become a princess in The Princess Diaries, OK? IT'S A GREAT MOVIE.
Anyway, as my girlfriend Katie and I boarded our flight to London, I began thinking about the royal wedding. About all of the strict rules and regulations I had learned about what it takes to be a royal. About all the traditions meant to be followed and the people meant to be pleased. About how prim and proper you're expected to be in the public eye. I couldn't help but laugh as I imagined Katie and me as royalty. We're both friendly girls with outgoing personalities and hearts of gold. But on the surface, it may not seem like we're, um, royal material. I mean, here's a picture of our most recent Halloween costumes (which we won a contest and a $100 gift card with, thank you very much):
And here's a picture of what we wore to a formal company holiday party:
You get the picture. We're... trash uh, quite the opposite of the royal image you typically see. But that didn't mean that throughout my life I never thought about what it would be like to live in a palace a million times the size of my shoebox apartment I can't afford, or what it would be like to have enough money to hire someone to make doctor's appointments for me because I hate doing that, and my mom won't do it anymore. (Please, mom?)
Needless to say, two seconds into our trip, and these thoughts started running through my brain even more. From the moment we stepped off the plane, it was clear that London's own obsession with the royal wedding bled into almost every aspect of the city. Documentaries about the royal wedding played on multiple screens in the airport. Almost every shop window we passed on the street was chock-full of Harry and Meghan paraphernalia. Hell, even pastries were adorned with tiny images of the royal couple.
While this city-wide obsession might've seemed odd to Katie and me initially, it's not that surprising when you really think about it, considering a monarchy still exists at all in the United Kingdom and conspiracy theories regarding the royal family and its history abound. Surrounded by the collective hype over the upcoming royal nuptials, Katie and I found that, just by being in London, pretty much everything we did had some sort of royal tie to it — whether authentic or one we just made up ourselves.
For starters, we stayed in South Kensington, just a stone's throw away from Kensington Palace. You know, the place where Kate Middleton and Prince William currently reside, the place where Prince Harry and Meghan appeared after their engagement announcement, and the place they, too, will live following the wedding.
At first, walking through the streets near our hotel made me feel like the ultimate imposter. Here I was, a grade-A weirdo with five-day old hair and a dumb outfit, strolling through one of the most expensive neighborhoods in London like I owned the place. Looking at ourselves, and then at the pricey houses around us, Katie and I just laughed at ourselves, at the prospect of us ever actually being able to live in an area like that, and kept walking.
Naturally, we made our way over to the most important palace of all in London: Buckingham Palace. We and a bunch of other commoners flocked to the tall, iron gates, with intricate crests gilded in gold, surrounding the palace. Peering through the bars and into the grounds housing this colossal landmark, I laughed to myself again, just as I had while strolling through Kensington. Here Katie and I were outside the Queen of England's freaking huge-ass palace... getting soaked in the rain and taking weird pictures of ourselves outside her enormous home.
In that moment, I kept thinking to myself how I could absolutely never be a royal, even if my life depended on it. No, really, like, I'm beyond any sort of help in that department. But then, I looked at Katie, care-free, laughing, and making fun of the fact that we were probably the weirdest people in front of Buckingham Palace at the time, and I forgot about everything else. We took our phones, we filmed ourselves being dumb in from of Buckingham Palace and asking Queen Elizabeth if we could get press passes to go inside (still waiting on that, Liz), and we left.
Strolling around London town, looking for something else to do to soak up the ~culture~, Katie and I decided to pop into a cafe for some tea. This was mostly because we figured afternoon tea was about the closest we could come to an activity that posh, and even royal, people do. As you might already know, Queen Elizabeth loves a spot of tea. After all, it seems like Meghan Markle has met with the queen for tea more times than anyone can count.
Perhaps this is a regional difference in preference or perhaps I just love Diet Coke and Katie loves lemonade more, but Katie and I aren't big tea drinkers. I don't know, but waiting for water to boil and a tea bag to seep just seems like a lot of effort to me, you know? A few days in London, though, and we were bleeding tea. We had tea at three separate places. That's more tea than I've ever drank in my entire life probably.
Were we royal material yet? LOL, NOPE. I mean, would you let these two freaks pictured above hold a royal title? Hell no. (But, like, it would be funny AF, right?) But that's the thing. The longer we stayed in London, immersed and fully participating in the royal frenzy happening around us, the funnier it was to just be ourselves and pretend that we were the two weirdest royals to ever exist.
From then on, we dived into the royal hype head first. When we sat down at pastry cafes, we immediately ordered whatever had Prince Harry and Meghan Markle's faces on it. When I went into a souvenir shop, I bought a Queen Elizabeth bobblehead. When we passed a window with Harry and Meghan keepsakes stacked to the ceiling, we photoshopped our faces in, because how f*cking funny is that? (Answer: Really funny.)
As our week-long trip across the pond winded down and our royal fever was breaking, I was pretty confident in one thing: I, a not prim, improper, loud, obnoxious, weirdo who doesn't like tea, only wears leggings, and can't afford a pack of gum, would never have the formal title of a princess. And that's OK. (In fact, for the sake of any country with a monarchy, that's probably best.)
Though I'll never be a member of the royal family, my time in London with Katie before the wedding drowned out the distant thought in the back of my head, wondering what it would be like to be a princess. Gallivanting around the streets of London, being too loud, laughing too much, and doing whatever we thought was funny made me feel like Katie and I ruled the world — our own world. We may not be living in Kensington Palace anytime soon, but I guess you could say we're still princesses in our own regard.