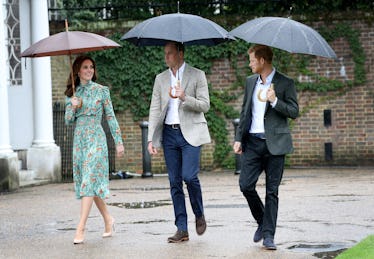 Here's A Rundown Of Everyone Who Lives In Kensington Palace & It's Seriously A Lot
Chris Jackson/Getty Images Entertainment/Getty Images
I don't understand what palace living is like, but I assume the moment you step into any room it smells like lavender and piano music is playing, even if there isn't a piano. We know Prince William and Kate Middleton live in Kensington Palace and that Prince Harry and Meghan Markle moved in, too. But, something tells me they aren't exactly crashing in the guest room on a futon. In fact, Kensington Palace is comprised of many buildings, with many rooms, with many futons! (At least two of those things are true.) How many people live at Kensington Palace? More than my college dorm, I'll tell ya that.
Kensington Palace is the royal residence sitting in Kensington Gardens. It's located in the Royal Borough of Kensington and Chelsea in London, England. Even though it looks like it's in the center of a field oasis in photos, the palace is actually a very quick 15-minute drive from the center of the bustling city. It might be less familiar to foreigners when compared to Buckingham Palace, but it's totally iconic nonetheless.
Like I mentioned, it's mostly known as the home to the Duke and Duchess of Cambridge, Prince William and Kate Middleton. But, quite a few royal family members pick up their mail there, as well. Here's a breakdown of everyone living inside the royal grounds.
Prince William, Kate Middleton, Prince George, Princess Charlotte, and Prince Louis - Apartment 1A
I know, it's kind of hilarious to think about these two living in an "apartment." Initially, they moved into Nottingham Cottage in 2013. For a short time, they moved to Anmer Hall in Norfolk after the arrival of their first baby, George, but eventually made the leap into the assumedly bigger and better 1A at Kensington.
This is where Kate and Prince Louis returned to after his birth on April 23.
Prince William and Meghan Markle - Nottingham Cottage
Prince William and Meghan Markle jumped into Nottingham Cottage shortly after their engagement in November of 2017. Woman and Home reports it is a two-bedroom cottage close to Apartment 1A. However, it's rumored Prince Harry has his eyes on a larger apartment closer to his brother and sister-in-law inside the grounds.
Princess Eugenie and Fiancé Jack Brooksbank - Ivy Cottage
PEOPLE magazine reports the princess and her fiancé just became neighbors with Prince Harry and Meghan Markle as recently as May 1, 2018. Apparently, their cottage has three bedrooms.
The Prince and Princess of Kent - Apartment 10
According to Woman and Home, Prince and Princess Michael of Kent moved into the palace in 2002. Later, it was discovered the Queen was covering their rent, which was kind of a big deal. In 2010, it was announced they would have to pay the full rate of 120,000 GBP to stay.
The Duke and Duchess of Gloucester - Apartment 1
Prince Richard the Duke of Gloucester is one of Queen Elizabeth's cousins. He and his wife live in Apartment 1, right next door to Kate Middleton and Prince William's home.
The Duke and Duchess of Kent - Wren House
Prince Edward, the Duke of Kent, is Queen Elizabeth's first cousin. He and his wife Katharine enjoy the palace digs, even with all the new babies running around.
Reportedly, there are about 50 residents at Kensington Palace in total, including the royal family. Other folks include staff, military members, and even regular ol' civilians who happen to have enough pocket change for rent.
Sure, security has to be wild, but like my mother always told me: If you have enough money to live in a palace, do it.
Wise, wise lady.