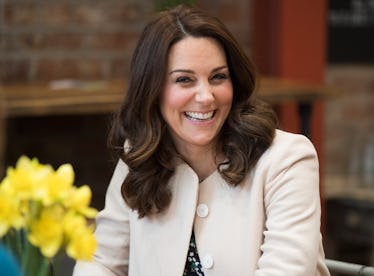 Here's The Actual Meaning Behind Kate Middleton's Baby Louis' Name & It's Royal AF
WPA Pool/Getty Images Entertainment/Getty Images
It's official! Kate Middleton and Prince William have welcomed their third child — and it's a boy, you guys! So exciting! And are you ready for the name? Because lemme tell you, it's a good one. The new little prince is named Louis Arthur Charles. And if you like the sweet sound of it, the meaning of Kate Middleton's baby's name is even better! Louis is a German and French name that means "renowned warrior" and I am so on board with the significance behind this amazing moniker! As for Arthur, it means noble and courageous.
All of little Louis' names are also steeped in royal history. As for Louis, it's actually one of Prince George's middle names (George Alexander Louis) and could be a nod to Louis Mountbatten, Prince Philip's uncle. Prince William and Prince Charles both have Arthur in their full names and Queen Victoria had a son named Arthur. And Charles, of course, is after the little one's grandfather, Prince Charles.
It was last fall when Kensington Palace first announced that the Duchess of Cambridge was expected to give birth in April 2018. And, well, here we are! Kensington Palace first shared the news of the new baby's arrival on Twitter. The post said,
Her Royal Highness The Duchess of Cambridge was safely delivered of a son at 1101hrs. The baby weighs 8lbs 7oz. The Duke of Cambridge was present for the birth. Her Royal Highness and her child are both doing well.
An official letter announcing Louis' birth date, time, and weight was also posted on an easel outside Buckingham Palace, as per royal tradition.
Then, on April 27, the royal baby's name was announced by Kensington Palace. The announcement read,
The Duke and Duchess of Cambridge are delighted to announce that they have named their son Louis Arthur Charles. The baby will be known as His Royal Highness Prince Louis of Cambridge.
Louis joins his big brother, now 4, and his big sis Princess Charlotte, 2. So, let's take a look at the meaning behind his/her older siblings names real quick. Prince George was named after the Queen's father, King George VI. And Charlotte, whose full name is Princess Charlotte Elizabeth Diana, was named for Queen Elizabeth and William's late mother, Princess Diana.
The baby arrived right on schedule, placing the new baby's birthday right before Princess Charlotte's on May 2. He will also share a birthday month with great-grandmother Queen Elizabeth II, who was born on April 21, 1926.
UK bookies had been taking bets on the new baby's name, of course, with Alice and Mary leading the way for a girl (which people were convinced it would be). Mary is actually one of the middle names of Queen Elizabeth, and Alice is both the name of Prince Philip's late mother, and the name of one of Queen Victoria's daughters.
As for a baby boy, the top spots went to Albert (after Prince Albert, Queen Victoria's husband) and Arthur (after William and Charles, who both have Arthur in their full names).
I actually love the name Alice. In English Alice means "of the nobility," so how perfect is that? Oh well, maybe they'll decide to use it for baby number 4!
The public learned Kate was expecting at the same time they learned she was once again struggling with hyperemesis gravidarum. Kensington Palace released a statement announcing both her third pregnancy and her condition:
"Their Royal Highnesses The Duke and Duchess of Cambridge are very pleased to announce that The Duchess of Cambridge is expecting their third child," the statement read. "The Queen and members of both families are delighted with the news."
Meanwhile, baby number three already has a page on the royal website. When it first went up back in mid-March, it only said "The Duke and Duchess of Cambridge's third baby" at the top, then gave visitors a quick recap of the pregnancy and told us all to follow along with the royal family on Kensington Palace's Twitter account. But now it's been updated with all the amazing details on the third baby, and TBH I already it bookmarked and plan to keep checking back religiously.
Will the baby's fist official outing be Prince Harry's nuptials to Meghan Markle? Stay tuned. Until then, I'll just be over here refreshing.