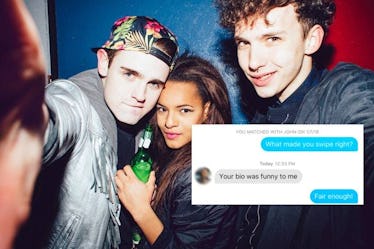 My Best Guy Friends Created My Tinder Profile & This Is What Happened
Swiping through dating apps is a great way to pass the time when you don't have much else going on, but after a while, even that can get a little monotonous. To make things more exciting, I decided to have my best guy friends use my Tinder to create what they felt was a winning profile. I've relinquished control of my Tinder in the past — like when my brother used my Tinder for an entire weekend — and the results are usually positive, so I wasn't too nervous about this.
I typically share my most interesting Tinder conversations with my two best guy friends — Jon, 26, and Mo, 30 — and I love getting their feedback. It's actually way more honest than my girl friends', and their perspective, as two heterosexual guys, is so different from my own, which helps me navigate the dating world with a bit more confidence. Helpful as they are, though, they enjoy the casual joke at my expense every now and then, and this experiment was no different.
Nevertheless, they stand by the Tinder profile they created for me — they're just waiting on their invitations to the wedding, now. Here's what they came up with.
Choosing The Pictures
Because we all live about an hour away from each other, we decided it would be easiest for them to choose photos from my Instagram profile. I take Instagram way too seriously, so they usually have a lot to say about my posts, regardless. They went deep into the archives for this, deliberating on photos I'd posted more than a year ago, so I at least felt like they were taking the experiment seriously.
The Plandid
Full disclosure: My Instagram is full of plandids, OK! I'm not ashamed this, either, and I'm convinced that plandids do just as well on dating apps as they do on Instagram.
My friend Jon agreed: "I like the hat-outfit combo here. Very put-together, so I know you put effort into how you look, which is a plus for me."
More Plandids?
Jon considered another plandid — the first of this two-photo post — but he explained that, because my face was obscured, it probably wasn't the best photo for a dating app profile. I pointed out that the second photo offered a much clearer view, but he admitted that it didn't look candid enough (oh, the irony): "I tried to avoid the ones that look too much like photo shoots."
Alas, after much consideration, this one didn't make the cut. Onward!
The Playful Bikini Shot
A cliché, yes, but they had their reasons. "Well, you're in a bikini," Mo said.
The Basic-Girl Halloween Costume
If I'm being completely honest, this was a thirst trap I'd posted and yes, it worked. Mo added that, thirst trap aside, it was a fun-looking shot that made me appear more interesting.
The Festive New Year's Shot
Picking up on the the thirst-trap theme and proving, once and for all, what guys really think of thirst traps, Jon insisted that I add this one to my profile — an interesting choice because I'd never previously thought of this photo as a thirst trap. It just seemed like a fun, creative shot to get at the time... you know, something Taylor Swift might do for an album cover, ("There's glitter on the floor after the party," amiright?)
The Pièce de Résistance
About choosing this photo, Jon explained, "This is the opener. This is the bait."
I couldn't argue with that logic.
All in all, I had no real objections to the photos they selected or their rationale. It all made sense, and honestly, I thought, "Hm, I might even swipe right on this girl." I liked that, collectively, the photos they chose seemed to capture my personality pretty well. The first plandid was a brunch shot I took on a trip to Los Angeles a few months ago — a fair indication that I'm down to travel or go on road trips. The bikini shots were spot-on too, since I grew up in the Caribbean and have lived in South Florida for almost 10 years now. Lastly, the holiday shots — which were probably some of my most fun photos to take — accurately suggest that I enjoy celebrating just about anything.
Next up was my bio!
Writing The Perfect Bio
I know everyone thinks their friends deserve a reality TV show, but, like, my friends really do. At the very least, I think they'd be great at comedy writing for late-night TV. They have yet to take me up on this, but they let their talents shine while writing my Tinder bio. They had so many ideas, we actually had to take it to a vote.
First up was one they'd suggested to me a while back because of my love for two very different artists: Cardi B and Taylor Swift.
I think my fascination with both of these women started off as a joke, but it's quickly morphed into genuine fangirling, and I'm OK with it. As much as they loved this idea, they wanted to try some newer alternatives. To be safe, I asked for the option to veto some of the truly terrible ones. (This is my profile, after all.)
1. Mo: "I don't use teeth to eat a banana."
Me: Veto!
2. Jon: "Let's warm up in this cold weather together."
Mo: There's a lot of "we" implications there.
3. Jon: Don't make me your New Year's resolution. Those never get done.
Me: Sold!
That process took longer than expected (with a lot of other vetoes thrown in there in reality), but I was finally ready to put my profile to the test. Jon's bio was timely, funny, and witty, and the fact that I probably wouldn't be trolled for it was a huge plus. (Take note, Mo.)
Testing My Tinder Profile
I started off by bluntly asking why my matches swiped right.
John, 25
John liked my photos, but he suspected they might be photoshopped, which was kind of odd. My guy friends explained that guys are used to being catfished a lot on Tinder, so his concerns were justifiable.
Jarrod, 28
Like John, Jarrod thought the photos were appealing, but it was my bio that really didn't go unnoticed. His profile, on the other hand, could use a little work since he was wearing sunglasses in all of his photos. I'm thinking of putting him on to my friends so they can help him out.
Just based on my first two matches, it was clear that, although they liked my photos, it was my bio that won them over. Taking this into consideration, I figured I would ask new matches what their actual New Year's resolutions were... to see if they even noticed my bio.
Ryan, 26
I appreciate that Ryan took the time to analyze my bio and assess what it meant for him. My resolution, Ryan, is to go out with guys who appreciate my witty Tinder bio.
Dan, 27
Dan also noted the clever bio, but followed up with a wildly aggressive GIF. Too much, too soon, Dan.
Like I mentioned earlier, my friends are confident that I'll find "the one" using their profile, and I think I know just the guy...
Nathan, 26
I'm tempted to make an Along Came Polly joke here ("You for Scuba?") but I love that Nathan seemed to think about my love for all things coastal. I mean, I already have plans with his mom for crying out loud.
Turns out, my best guy friends knew what they were doing when it came to creating my Tinder profile. Jon and Mo, you'll be getting Nathan's and my "Save The Date" cards in the mail any time now.
Check out the entire Gen Why series and other videos on Facebook and the Bustle app across Apple TV, Roku, and Amazon Fire TV.