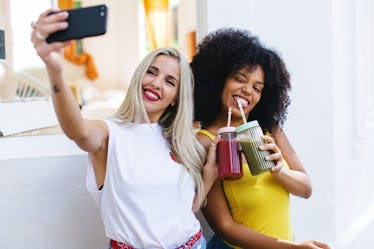 Your Friends Would Rather Do This One Thing Than Brunch With You & Honestly, Same
Would you trade your waffles for a weekend away? Personally, I wouldn't even hesitate to swap out bottomless mimosas for an endless amount of memories in an exotic place. I'd gladly give you my syrup for a stamp in my passport, and even stay in on a few Saturday nights just to save some money for a future trip. For me, traveling is a passion, and I could live without pancakes, but couldn't imagine not hopping on planes every other month. Turns out, I'm not the only one. In fact, most millennials would rather travel than go to brunch, according to a new study conducted by HomeAway. It's safe to say, it's time to convince your girl crew that they don't need that avocado toast either — especially when there's an entire world to see.
Don't get me wrong, I love breakfast food just as much as Leslie Knope from Parks and Recreation. So, giving up all the omelettes and home fries at my local diner wouldn't be easy. But, I also know that my bucket list is pretty long, and that I'd rather spend my mornings watching the sunrise on an island off the coast of Greece than in that usual booth toward the back. I'd rather be hiking in a national park, or checking out a European city this summer while the weather is warm. That has to be pretty close to bliss, right?
HomeAway, a site where you can rent condos, beach houses, and cabins across the globe, found out that millennials really would choose travel over brunch, and I can't say I'm very surprised. But, let's look at exactly what they found out along the way.
How did the brunch versus travel study work?
Essentially, HomeAway organized a poll that discovered 93 percent of millennials would choose travel over brunch (aka, bottomless mimosas). They surveyed 1,087 people between the ages of 18 and 34 in June 2018, and it's safe to say hopping on planes won with flying colors.
They then compared the average brunch cost (which is around $34) in poppin' cities throughout the U.S., with the average per person cost of renting a home for a weekend with friends. The survey showed that 46 percent of millennials will plan two to three nights away with their crew, which is essentially the length of a long weekend.
So, when all is said and done, their mission was to show that skipping out on brunch could actually give you enough funds to fuel your wanderlust. "A vacation with your besties might sound out of reach, but we wanted to do the math to show that small swaps and the right accommodation can make it surprisingly affordable," said HomeAway's travel expert, Melanie Fish. HomeAway's getaway deals alone can be covered by missing out on bacon and eggs. I mean, we're talking access to hot tubs, pools, and grills. Sounds sweet, huh?
How many brunches would you have to give up to go to your dream destinations?
The truly rad thing about this study is that they actually calculated just how many brunches you'd need to miss in order to make it to some pretty beautiful destinations. For example, if you skipped out on two brunches (Yes, just two!), you could book a trip to somewhere in the Pacific Northwest, like Bend, Oregon, or the Pocono Mountains in Pennsylvania. It's seriously that simple, and you'll be happy to see the funds in your bank account for such adventures.
To travel to Palm Springs, Nashville, or Austin, it would take about three brunches, and San Diego would be about four. The only place they recorded that may be a serious dent in your usual brunch routine is the Hamptons, which would take missing out on about seven breakfast meals for a wonderful vacation. Still worth it? I think so.
Why should you give up avocado toast for your next trip?
Brace yourself, because this is about to be a very unpopular opinion: There are things in this world that are much better than avocado toast. Yes, I love guacamole and I'm not trying to completely hate on the superfood. But, if you had the choice between going to brunch and finally following your wanderlust, would you really pick the waffles?
The memories you can make with your besties while you're traveling the world are ones that will truly last forever. You'll learn new things about each other, and will probably become a whole lot closer as you wander around new places. Your friend crew has probably already thought about planning a road trip down the California coastline, or seeing the dreamy waterfalls of Iceland up close and personal. It would be worth it for all of you to skip out on that usual Saturday morning bagel just a few times in a row, and join the statistic that honestly isn't too surprising.