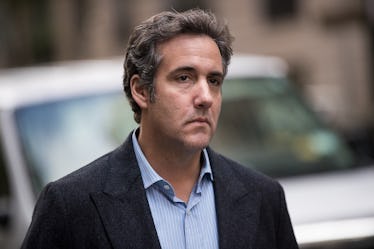 Twitter Is Roasting Trump's Lawyer's Old Tweet About Hillary Clinton & Prison
Drew Angerer/Getty Images News/Getty Images
There is a lot going on in the world right now. The 2018 midterms are around the corner, President Donald Trump is forever tweeting, and now Michael Cohen has reportedly pleaded guilty on charges of financial fraud, according to CNN. A representative of Cohen's lawyer declined to comment to Elite Daily on the reports of a plea deal. The latter is definitely a major situation, but it's still got its weirdness — especially because Michael Cohen's old tweet about Hillary Clinton going to prison is resurfacing online, and people can't stop pointing out the irony of it all.
UPDATE: On Aug. 21, Cohen pleaded guilty to eight counts of financial fraud in a Manhattan federal court, including five counts of of tax evasion, one count of false statements to financial institutions, one count of cause of unlawful corporate contribution, and one count of excessive campaign contribution. Cohen also admitted to paying Stormy Daniels and Karen McDougal, two women who claim to have had affairs with President Donald Trump, at the "direction of the candidate," a phrase which appears to indicate Donald Trump. Elite Daily reached out to the White House for comment on Cohen's claim. Cohen faces a maximum sentence of 65 years in prison and has been released on a $500,000 bond.
EARLIER: Cohen — the former longtime personal attorney of President Donald Trump — reportedly reached a plea deal with federal prosecutors in the Southern District of New York on Tuesday, Aug. 21 amid a probe into his finances, according to CNN. He reportedly pleaded guilty to multiple counts of campaign finance violations, tax fraud and bank fraud, which could have serious implications, including a hefty monetary fine and jail time. Though specifics of the reported plea deal aren't yet known, that's likely why tons of people took to Twitter to air out Cohen over a tweet he wrote in 2015 to then-presidential nominee Hillary Clinton, in which he taunted her with a threat of prison.
The tweet read: "@HillaryClinton when you go to prison for defrauding America and perjury, your room and board will be free!"
Needless to say, the tweet seems a little ironic now, and people can't stop talking about it online.
One person threw his own twist on the words "lock her up," a rallying chant from Trump campaign events calling to imprison Clinton, writing "LOCK HIM UP!" To be clear, Cohen has not, as of 4:09 p.m. on Aug. 21, been charged with any prison time in regard to his reported guilty plea.
Clever, @denkus73.
A Twitter user who goes by the name @kdscheffer1 said Cohen's situation was nothing but karma.
Dang, that's cold, Cristy.
The investigation into Cohen's personal financial affairs came to a head back in April, when federal agents stormed the attorney's office in search of evidence related to multiple ongoing investigations, including the alleged $130,000 hush money payment Cohen made days before the election to adult film actress Stormy Daniels, who claims she had an affair with the president in 2006. Though Trump has repeatedly denied the alleged affair, Cohen admitted to paying the $130,000 out of his own pocket, saying that Trump did not know of the payment. Trump later admitted to paying back the payment. Cohen also became the focus of a probe by the U.S. Attorney's Office for the Southern District of New York into potential bank fraud and campaign finance violations, according to The Washington Post.
As CNN notes, the alleged plea deal could spell trouble for Trump, too. Cohen, who once vowed that he would "take a bullet" and "do anything" to protect the president, told ABC News on July 2 that his loyalty lied with his family and country first, not with Trump. Cohen's attorney, Lanny Davis, later said on July 10 that his client's comments were an act of separation from the president.
That said, it doesn't look like this drama is over yet, even with Cohen reportedly entering a plea agreement. But perhaps if this tweet was deleted, he might have a little more peace.