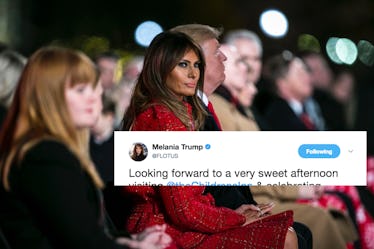 There's Something A Little Awkward About Melania Trump's Valentine's Day Tweet
Pool/Getty Images News/Getty Images
I don't know about you, but when I'm in a relationship, I live for those surprise social media messages that my partner dedicates to me — especially on Valentine's Day, when it's almost mandatory to send your boo the most romantic (and public) declaration of your love. OK, so I don't have a valentine this year, but I've been browsing through social media and living vicariously through any heartfelt message I can find, from peers to politicians. While our president has yet to send a message dedicated to our first lady, she's already posted her message for the day — except Melania Trump's Valentine's Day tweet didn't mention Donald, and we're just trying to figure out what's really going on.
On Wednesday, Feb. 14, in typical Valentine's Day fashion, Trump took to Twitter to post a message that detailed her plans for the day. She wrote that she would be spending "a very sweet afternoon" with someone — but the catch is that it's not Donald, which makes her message all more cringeworthy. The first lady tweeted that she would be spending the day with kids at the National Institutes of Health (NIH) instead. She wrote, "Looking forward to a very sweet afternoon visiting @theChildrensInn & celebrating Valentine's Day with some kids at @NIH! #HappyValentinesDay"
Awkward.
But it's not like the couple hasn't raised suspicions about their love life.
The reports of Trump giving her husband the cold shoulder are nothing new, but have seemingly increased since the Stormy Daniels news. If you're not aware, on Jan. 12, The Wall Street Journal reported that the president had allegedly had a sexual encounter with Daniels, an adult film actress, during his marriage to Trump. Trump's lawyer, Michael Cohen, said in a statement that he paid Daniels $130,000 in October of 2016, though Cohen, Daniels, and the White House all deny an affair took place.
But it looks like Melania's still ticked off. On Jan. 22, news surfaced that Trump had canceled a trip to Switzerland where she was expected to join her husband at the World Economic Forum at Davos. The irony, you ask? The cancelled the trip on the same day as the couple's 13th wedding anniversary. Instead, Trump visited the Holocaust Museum in Washington D.C, accompanied by the museum's director.
And during the president's very first State of the Union on Jan. 29, Trump failed to stand for her beau after he discussed "faith and family" during his address. The president said, "In America we know that faith and family, not government and bureaucracy are the the center of democracy," which earned him a standing ovation from many people — except his wife.
Seriously, awkward.
Most recently, on Feb. 5 the couple looked totally awkward while jetting off from the White House. As they walked to the plane, the president made unsuccessful attempts to hold Trump's hand, and she failed to swap her purse into her other hand to free up the one closest to him.
When speaking about the strange encounter, Susan Constantine, a body language expert, told Elite Daily that Trump wasn't helping her husband "at all." She said,
She's not helping him at all. He's looking for her hand and she's not offering it. In essence, there's one of two things happening: Either she's not aware or she's not making the adjustment to hold his hand.
But she also added that Trump didn't give any major signs that would signal a refusal to connecting with the president. She said,
She's obviously tucked her hand behind her back, and they never do make a hand connection. So the question is, why would she tuck her hand behind her back? Her hand isn't visible in this moment, so it's hard to tell. But there are a couple of possibilities: It could've been part of Melania's natural stride, or she intentionally held it behind her back so that when he went to grab it, it wasn't there to connect with.
Still, there are so many more moments that raise eyebrows.
Though Constantine said there was really no way to tell if Trump intentionally refused to hold the president's hand or not, there have been other moments when the first lady looked like she wasn't tolerating PDA at all. On May 22, 2017 while visiting Israel, the president also tried and failed to hold Trump's hand, and I'm 90 percent sure she swatted his hand away intentionally.
I know these kinds of things can be happenstance, but sometimes you have to call a spade a spade — or in this case — a lack of a Valentine's Day message for what it might actually mean. (Or perhaps they just keep these things private 'cause not everyone lives on social media, right?) IDK, but in the meantime, I'll be on the lookout for Donald's message, just in case.